Rhino Extreme Truck Liner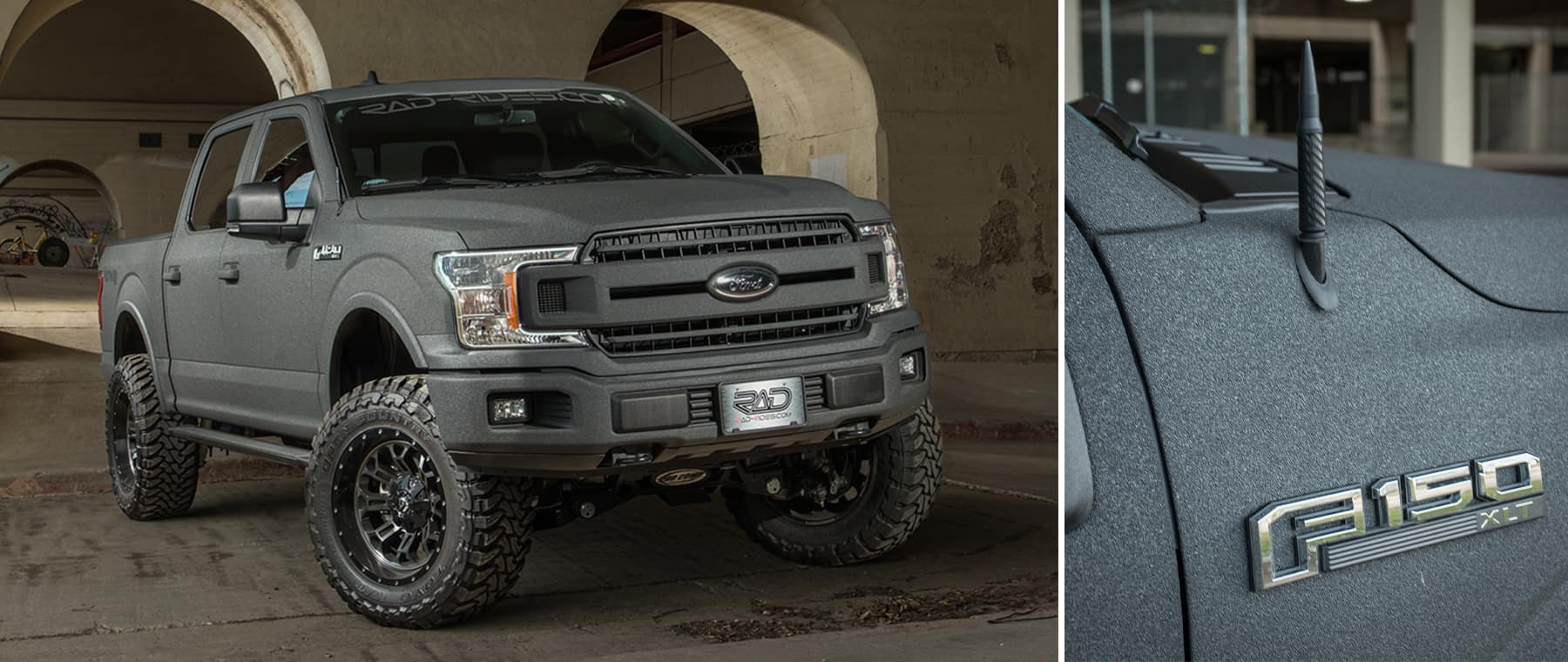 RHINO EXTREME™ SPRAY-IN LINER
The toughest name in truck bed liners!
What is it?
Rhino Extreme™ Liner was first conceived as an industrial and commercial protective coating. It's applied to your vehicle as a spray to a depth of ⅛" and bonds to nearly all surfaces. If you carry big loads, you need to protect the bed of your truck. In addition to mitigating the effects of impact, Rhino Extreme Liner provides chemical and corrosion resistance.
The benefits of the Rhino Extreme™ Liner are numerous, among the reasons listed above, it also creates a slip-resistant box for the hard-working truck and owner. With the Rhino Extreme™ Liner, you and your truck are ready to handle anything. ​With the Rhino Extreme™ coating, you get the freedom to use your truck effectively, for work or play. Haul what you want and protect your investment from the elements. It's simple, Rhino Extreme™ is the best quality spray-in liner for an affordable price.
Why Spray-in Liner?
Drop-in plastic box liners don't offer the best protection for your truck. After a time, the sun can warp the plastic, causing it to move and possibly hold moisture and corrode. If the bed liner is installed improperly or does not fit, it can cause damage to the truck.
With Rhino Extreme™ Liner, the product is sprayed in, allowing the product to get into the grooves of the truck bed. Rhino Extreme™ Liner is incredibly durable, creates a waterproof membrane, and a slip-resistant and stronger truck box.
Hours
Monday

9:00 AM - 6:00 PM

Tuesday

9:00 AM - 6:00 PM

Wednesday

9:00 AM - 6:00 PM

Thursday

9:00 AM - 6:00 PM

Friday

9:00 AM - 6:00 PM

Saturday

9:00 AM - 6:00 PM

Sunday

Closed
RHINO SPRAY-IN LINER APPLICATION PROCESS
Rhino Liners can be applied to trucks of all years, makes, and models. The Rhino application process delivers a seamless fit because it is sprayed directly to your vehicle; the liner is applied to every crevice. Our expert technicians have the qualifications, experience, and tools necessary to perfectly apply Rhino liner to your truck bed. Trucks are the most common, we've also had Cadillacs and other vehicles come in for extra protection. We can do our best to accommodate other vehicles and requests, so please feel free to contact us with a special request and we will work with you to understand your needs and make your Rhino lining vision real.
Rhino liners can be applied to:
Truck beds
Floorboards
Wheel wells
Rocker panels
And more! Talk to us for special requests!
Give your vehicle a new life with Rhino Extreme™ Liner.
PREPARATION
Our Rhino application process begins long before spraying. To ensure your vehicle remains in perfect condition, we perform extensive prep work to make sure the product bonds properly to the truck bed.
We begin by taping off all areas of the truck except for the surfaces to be sprayed
Taping is essential for avoiding overspray and keeping lines clean
SANDING
Next, we use a power sanding method with an acetone cleaner to remove debris from all surfaces
Sanding ensures a seamless bond between the coating and your truck bed
This process takes between two to three hours but can take longer if there are additional truck bed accessories to remove and reinstall
APPLICATION
The two-compound mixtures comprising Rhino Extreme™ are stored separately and mixed prior to spraying to ensure high product quality and consistency
We use high temperature, high-pressure Rhino application process
The compound is heated to 140 degrees and is sprayed at 2400 psi for even coverage
The spray formula allows custom application every time that fits your truck perfectly
RHINO LINER PRICING
5'6″ Box: starting at $615
6′ Box: starting at $675
8′ Box: starting at $729
*All prices are approximate and will vary depending on under rail application, over rail application, other truck box accessories currently installed, etc.
Please contact us for your personal quote.
DURABLE
Rhino is proven to be slip-resistant, impact-absorbing, and noise-reducing. Rhino Extreme™ offers chemical and corrosion resistance, rust prevention, as well as superior impact resistance.
PROTECT
Repetitive impacts damage the bed of your truck. If you want to protect your investment without sacrificing your truck's capability, trust Rhino Extreme™ Liner. You'll minimize the damage from your cargo, as well as from chemicals and corrosion.
GUARANTEE
We stand behind our Rhino Extreme™ coating. Our applications will not bubble, crack, or peel for as long as you own your truck. We guarantee it. Rhino Warranty and quality workmanship reinforce your peace of mind.
After applying a Rhino Extreme™ coating, we recommend keeping your vehicle away from any moisture for 24 hours. We also recommend avoiding heavy use (quads, skids, sleds, etc…) for 48 hours to ensure the product sets. After that, it's almost indestructible!