Types of Maintenance
Regular maintenance
is critically important to keeping you safe on White City-area streets and avoiding costly repairs down the road. A regular maintenance schedule will ensure the safety, reliability, comfort, and longevity of your car. Routine service ensures that your Ford Mustang runs at peak performance levels and your
Ford F-150 towing
delivers as expected. An oil change at the correct mileage is a good example of smart regular maintenance.
Preventative maintenance (fixing or changing out parts and additives at recommended intervals) helps you avoid major damage and ensures that your vehicle delivers a safe, reliable driving experience for you and your family. For example, replacing your brake pads or the timing belt on your Ford or Lincoln when they are worn prevents more expenses later, by not allowing catastrophic part failures.
When to Get Scheduled Maintenance
Unsure about how often your vehicle needs maintenance? Your vehicle manufacturer and Capital Ford Lincoln have a preventative maintenance schedule. You can consult your owner's manual or talk to our Ford Service experts. We will consider your vehicle, driving habits, and seasonal road conditions to suggest maintenance that will prevent costly repairs in the future.
What is a Tune-Up?
Typically, getting a tune-up means you get several maintenance services performed at once. Because of the advancements in today's Ford cars, trucks, and SUVs, the traditional tune-up service that you may have gotten on an older vehicle may be no longer relevant for your current vehicle.
Today, software in your car constantly receives inputs from thousands of sensors monitoring spark plugs, clogged filters, etc. So, don't ignore that warning light on your dashboard! Our service department staff works with your on-board systems to keep everything running safely and efficiently for you.
Schedule your service appointment with Capital Ford and we'll keep your vehicle in the best shape possible.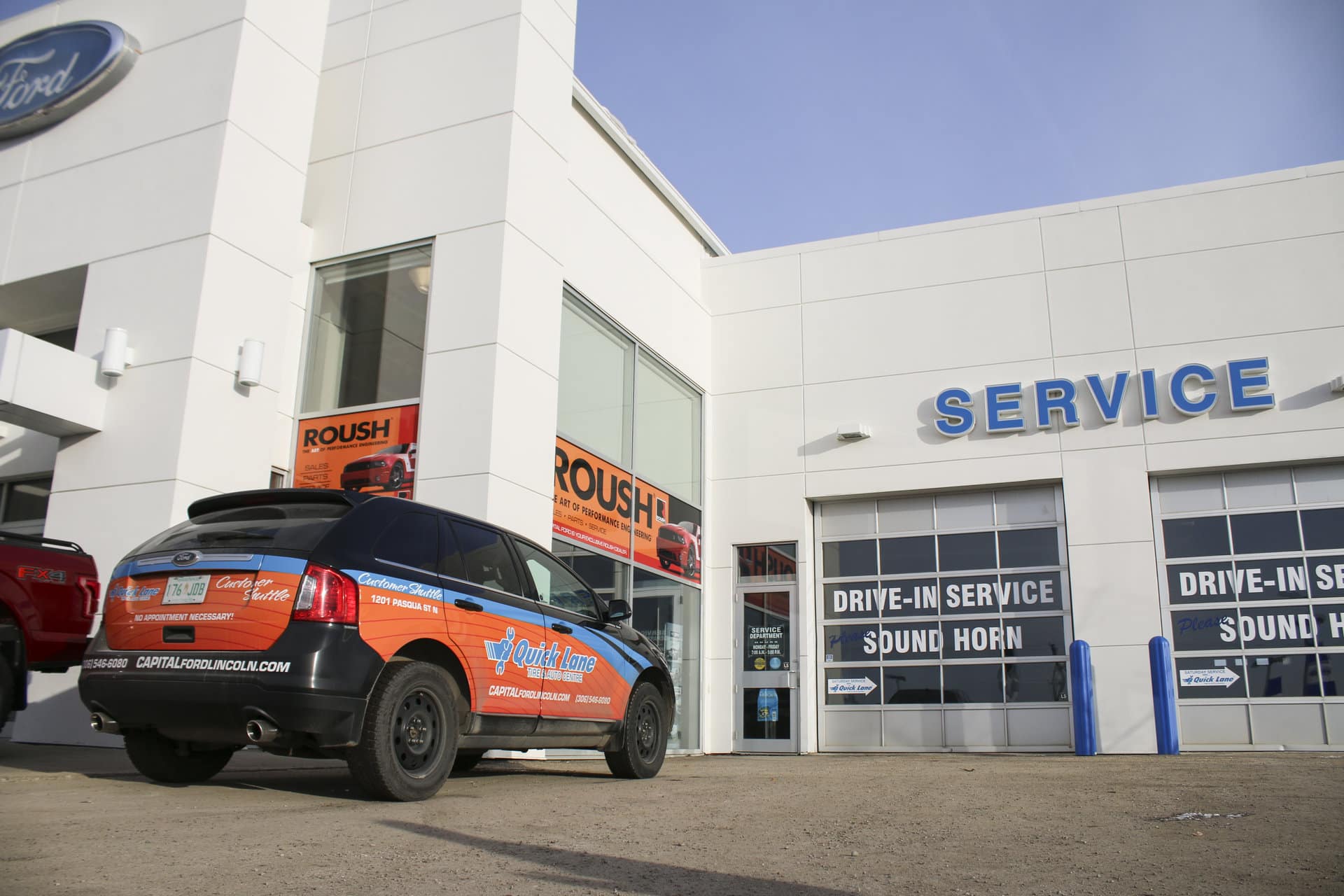 We Provide Maintenance on All Makes and Models
If you live in Regina or surrounding area, maintaining your vehicle is can be a challenge. Saskatchewan is rural, so commutes are long and roads are bad! Plus, the environment is seldom cooperative. While that makes maintenance challenging, it also makes it more vital. Whether you use your Ford Explorer for commuting to Moose Jaw, or are planning to take advantage of your Ford Escape towing capability, our trained technicians can make sure your vehicle performs as expected. With 52 maintenance bays and the latest mechanical equipment, the Service Department at Capital Ford Lincoln makes maintaining your vehicle easy and affordable!
Here are a few things our technicians will check out when your vehicle is brought in for maintenance:
Remaining Engine Oil Life - A quick inspection will determine your vehicle's remaining oil life percentage. This may be helpful, because short trips and cold starts reduce motor oil life, and those two practices are tough to avoid for most drivers in Saskatchewan.
Tire Wear - Checking the condition of your tire treads is easy enough for anyone to do at home. But we combine that service with an inspection of balance, alignment, rotation, and more. Plus, we know when irregular tire wear suggests more serious problems.
Wiper Blades and Glass Condition - Wiper blades and auto glass are important components for visibility and general safety. During our visual inspection, we'll look for chips and cracks and make sure your windshield is properly sealed and secured.
Fluid Levels
- Keeping fluids topped up is an important part of vehicle maintenance, but it's often overlooked. We'll check reservoirs for
brake fluid
, washer fluid, and more to ensure your vehicle is safe and operating efficiently.
Brakes - Not only are good brakes a vital part of road safety, they're also a complicated system. When we inspect your brakes, we makes sure the pads, rotors, calipers, and more are in perfect working condition. We'll let you know if anything needs to be repaired.
Battery Condition and Connections - A dead battery can put you in an uncomfortable or even dangerous situation. We inspect your battery's condition, charge, cleanliness, and connections, to make sure it stays in good health.
Additional Car Inspections - Of course, there are many more components that we inspect thoroughly and professionally. If there are any signs of leaks, cracks, wear, or malfunctioning parts, we'll alert you immediately.