Weekend Getaway to Moose Jaw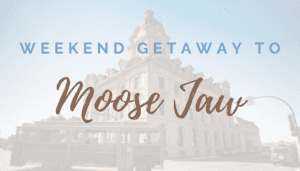 Have you and your squad been longing to get out of the city, even if it's just for the weekend? Well, we've got the perfect solution for you! Take a weekend getaway with your favourite people 45 minutes east to Moose Jaw, Saskatchewan! We'll break down all the best spots to check out during your stay, from food to drinks, and of course the best activities, and sites.
Morning Magic
It's the early morning, and you've just arrived in Moose Jaw. You've got a big day ahead of you so you're going to want to stop in at Evolve Coffee Roasters on Main Street first. Opt for an almond milk latte or a dirty chai to experience peak caffeine levels. Grab a snack like a scone or a delicious muffin to ensure that you're fuelled up to you guessed it…shop! 
Bib and Tucker Clothing, Bella Chic, Rowan Clothing, and Clothes Encounters are the best clothing stores to check out for on-trend, great quality pieces! Most of these shops are located on High Street, which is just off of Main Street. Their downtown is highly walkable, so there's a great chance that you'll find a number of additional stores with more tourist pieces, think knick-knack galore! The top spots for decor and gift pieces are The Perfect Find, Twenty Eight Decor, and Cranberry Rose Collective Boutique, all located on Main Street. Be sure to also check out Post Horizon Books, located on High Street for some seriously good reads. 
When you and your squad think that you are all shopped out, the next recommendation is going to make you rethink that thought because Lions Creek Olive Estate is your next stop! They're a new Canadian Olive Oil and Balsamic Vinegar company. They source their olives from South Africa for their extra virgin olive oil and their Balsamic Vinegar is imported straight from Modena, Italy. They offer group tastings and signature pairings to take all your next salads, carpaccios, and roasted vegetables to the next level! The Chili Dark Balsamic Vinegar and the Basil Extra Virgin Olive Oil are among some of the best. 
R & R
All that shopping will have made you work up an appetite. Cue Rosie's on River Street for lunch. Their southwest flatbread is best paired with a Pile O' Bones White IPA and some good company. Once you've enjoyed your lunch,  make a beeline to the Temple Gardens Hotel & Spa for a blissed-out afternoon full of relaxation! The spa is home to Canada's largest therapeutic geothermal mineral water pool. Unwind and give your muscles some much-needed soothing as you make your way from the indoor pool to the outdoor rooftop section of the pool. Once you've enjoyed the waters, The Sun Tree Spa awaits you. With facials, body treatments, massages, and more, you can tailor-make your spa experience. The Traditional Swedish Massage paired with a custom facial will leave you feeling on cloud nine. 
Spend the rest of your afternoon relaxing in a robe and getting ready for dinner at Harwood's Restuarant and Lounge located inside the Temple Gardens. Here, you can indulge in a delicious burger, prime rib, salad, and more. After a long day of shopping, eating, and relaxing, you'll be ready to stay the night at the spa, rounding out the end of a pretty jam-packed day. 
Your Day Awaits 
Now that we've covered all the best activities and food to check out on your weekend getaway to Moose Jaw, all you have to do is make the trip! At Capital Ford Lincoln we have a number of SUVs that are well equipped to get you to and from your destination, making the drive there and back a breeze. Take a peek at our adventure-filled line up of new SUVs. 

2020 Escape

2020 Eco Sport

2020 Edge

2020 Explorer 

2020 Expedition
For any more information about which SUV might be right for you, or to schedule a test drive, give us a call at 306-525-6000. We can't wait to help you make your weekend getaway dreams a reality.