Test Drive a Car From a Vending Machine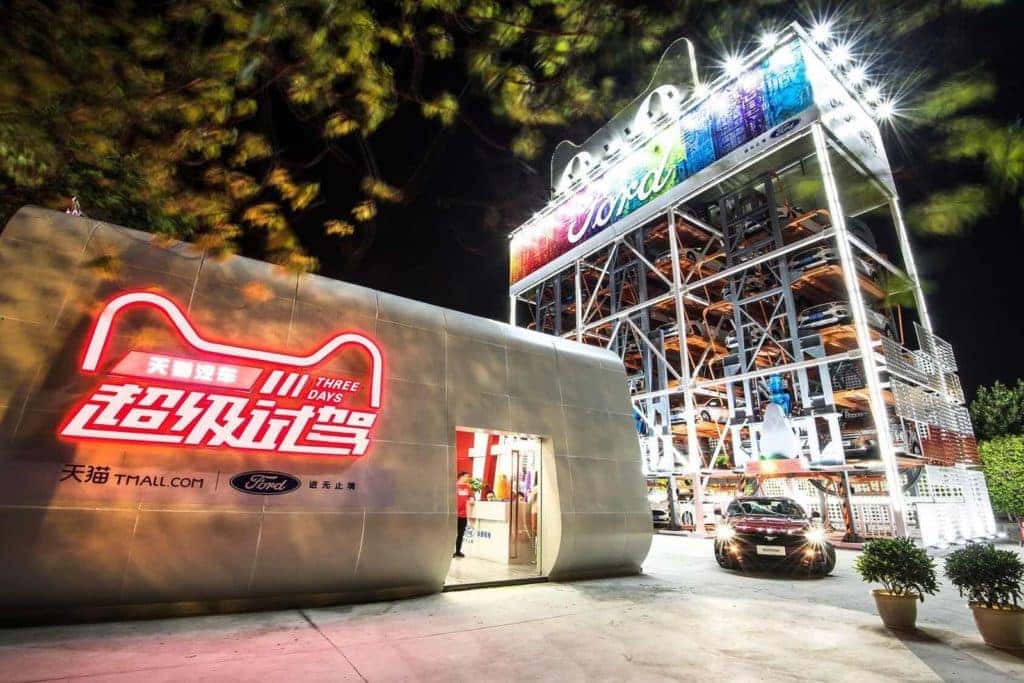 Many automakers offer extended or unique test drive experiences to help woo customers. Lincoln, for example, has been know to allow "dream date" overnight test drives for select customers and Buick has its own "24 Hours of Happiness Test Drive" program. These are great services that help customers figure out whether certain vehicles really fit into their lives. However, for scale and execution, these programs pale to Ford China's Super Test Drive Machine.
The Super Test Drive Machine
Ford and Chinese online retailer Alibaba have teamed up to build a giant vending machine for cars called the Super Test Drive Machine in Guangzhou, China. Despite looking like something you might find next to "The Zipper" at the Queen City Ex, the giant structure is basically a vertical dealership. It gives locals the opportunity to take a Ford vehicle of their choice for a three-day test drive. The Super Test Drive Machine has a capacity of 42 cars comprised of 10 different models including the Mondeo (Fusion), Explorer, and Mustang.
If you want to take part, you start by using your mobile device to select a vehicle. Then you show up and verify your identity and wait (no more than 10 minutes). Once you verify your identity and select the vehicle you want, the machine will retrieve it for you in less than 10 minutes – unless Alibaba is suspicious of your financial standing.
After all, the system is connected to Alibaba's Sesame Credit system. It works a bit like North American credit scores, pulling financial data from Alibaba and affiliated bank accounts. However, it also considers factors like social media interactions. Only those with excellent Sesame Credit ratings can access the Super Test Drive Machine for free. Those with poorer scores must pay a small fee. Sesame Credit is not related to the Chinese government's Orwellian social credit system.
Vending
Believe it or not, the Super Test Drive Machine isn't the first automotive vending machine. In 2016 Autobahn Motors, a sports car retailer in Singapore, built a 148-foot tower to showcase cars like the Lamborghini Aventador and Ferrari 512M. It was an ingenious solution for showcasing his inventory in a crowded city. You can even find examples of car vending machines in North America. American company Carvana has its own setup complete with giant novelty coins, but they assure users they can't shake the machine to snag a free vehicle.
Building a giant scaffolding contraption to vend cars may not appear practical or cost-effective. But it's a clever way to make the most of limited space in a crowded city. More importantly, it's a smart viral marketing strategy that encourages users to share their experiences on social media. The stunt will only run until April 23, so jet over to Guangzhou and test drive a Mustang!