Towing Capacity for the Ford F-150

The 2021 Ford F-150's impressive towing capacity makes hauling trailers, boats and everything in between a breeze. Say hello to your new pickup truck.  
Towing Capacity Trim Levels
Trying to decide which trim level to go for based on towing capacity? Say no more. We'll break down each engine size with their maximum towing capacity and available maximum payloads so you can make the most informed decision for all your hauling needs. Check out the specs below, starting with the highest towing capacity in descending order. 
| | | |
| --- | --- | --- |
| Engine Size | Maximum Towing Capacity        | Maximum Payloads    |
| 3.5L EcoBoost V6 | 14,000 lbs. | 3,250 lbs. |
| 5.0L Ti-VCT V8 | 13,000 lbs. | 3,325 lbs. |
| 3.5L PowerBoost Full Hybrid V6                 | 12,700 lbs. | 2,120 lbs. |
| 3.0L Turbo-Diesel V6 | 12,100 lbs. | 1,840 lbs. |
| 2.7L EcoBoost V6 | 10,100 lbs. | 2,480 lbs. |
| 3.3L Ti-VCT V6 | 8,200 lbs. | 1,985 lbs. |
If your most important non-negotiable is the highest towing capacity available, we recommend the 3.5L EcoBoost V6 engine with 14,000 lbs. maximum towing capacity and 3,250 lbs. maximum payload. Get approximately 1126km in a single tank of gas. Impressive, we know.
Tow Time 
The 2021 Ford F-150 was built to be capable, powerful and tow like a boss. The re-imagined best-selling pickup is back and better than ever before with a number of impressive capabilities. Smart Hitch and Smart Trailer Tow Connector were designed to make your life easier. When you've got places to go and people to see, these functions provide you with a seamless connection so you'll always be on time.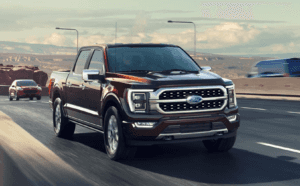 Smart Hitch
Smart Hitch is just that. A hitch that is intelligent enough to load trailers with ease. You'll be able to evenly distribute the trailer weight as it measures the tongue weight of the trailer being connected. Once the hitch has been set up, you're able to easily utilize the centre touch screen in conjunction with Smart Hitch and calculate the correct tongue weight. Smart Hitch will then provide recommendations regarding weight distribution or hitch overloading. If your hitch weight is too high or low, you'll know and will be able to adjust accordingly. You can easily access this information from your FordPass app or via the centre touch screen. 
Smart Trailer Tow Connector 
Towing and hauling your valuables, whether it be a camper trailer, boat, or work trailer, which is pivotal to your everyday life, can be risky business. Ford has spent countless hours ensuring that your most valuable assets are protected. The Smart Trailer Tow Connector features were designed to do just that, protect. If your trailer needs any sort of attention, whether it be uneven weight distribution, burnt-out lamps etc. it will let you know. Simply view the towing activity screen to view any alerts or warnings that need attention. 
Towing Capacity That Performs
It's pretty apparent that Ford has pulled out all the stops for this one. Once you've browsed the various trim levels and found the F-150 and the towing capacity that best suits your unique needs, you'll be ready to hit the open road in no time! To custom order, your F-150 or test drive this model, visit our showroom today! 
At Capital Ford Lincoln we're dedicated to ensuring that we get you behind the best Ford for your lifestyle. To learn more, call or book your appointment today! 
Find Capital Ford Lincoln at 1201 Pasqua Street North Regina, SK.