Top 5 Easy Lunches To Pack For Work

Sundays are great. If they were actually for resting. Everyone knows that Sundays are full of laundry, house cleaning, and possibly the worst yet, packing lunches! Don't worry. We've made a list of some easy meals you can pack the night before that will actually taste good during your lunch break at work.
5. BBQ Chicken Salad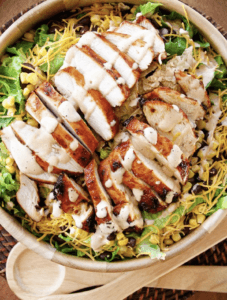 What could be easier than salad? The BBQ chicken will require a bit more preparation, but in all honesty, it takes about 20 minutes to cook a chicken breast with maybe an additional 10 minutes to add the sauce and chop veggies.
Ingredients:
2 boneless, skinless, thin-sliced chicken breasts

Salt & pepper to taste

6 cups chopped romaine lettuce

1 Roma tomato, diced

¾ cup canned corn kernels (drained)

¼ cup diced red onion

¼ cup shredded Monterey Jack cheese

¼ cup Ranch dressing

¼ BBQ sauce
Directions:
Heat olive oil in a medium skillet over medium-high heat

Season chicken breast with salt & pepper, add to skillet and cook, flipping once until cooked through (about 3-4 minutes per side. Let cool before slicing into bite-sized pieces

Assemble salad next: Mix all ingredients in a large bowl and top with chicken. Pack Ranch dressing and BBQ sauce in small containers to add on top of salad during lunch hour.
* Tip: If you don't have time to cook the chicken, check your grocery store for a rotisserie chicken or pre-cooked chicken slices you can easily throw on top of some lettuce.
4. Greek yogurt Chicken Salad Sandwich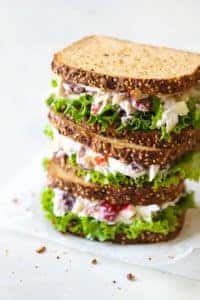 This is another great recipe that works well with leftovers. If you made chicken or turkey over the weekend, cut up some small pieces, throw in some sauce and veggies and your sandwich is practically done. PLUS, by using Greek yogurt, it's also a health-conscious recipe. You won't even miss that mayo taste that's full of unwanted calories.
Ingredients:
2 cups leftover chicken

½ cup diced red onion

½ cup diced apple

½ cup grapes (halved)

¼ cup dried cranberries (optional)

½ cup plain Greek yogurt

1 tbsp lemon juice (or more, to taste)

½ tsp garlic powder

Salt & black pepper to taste

4 leaves of lettuce
Directions:
In a large bowl, combine chicken, red onion, apple, grapes, dried cranberries, Greek yogurt, lemon juice, garlic powder and salt & pepper to taste

Serve on bread of your choice and pack for lunch.
* Tip: If you don't have a gluten intolerance, we recommend making this sandwich on a grainy loaf of bread. Obviously fresh is better and Cobs Bread is always a great place to check!
3. Bistro Box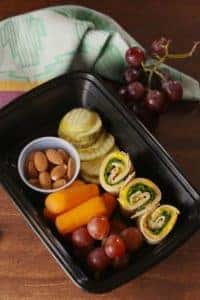 You've probably seen or heard of these. They often hang out in the fridge aisle at the grocery store with all the other pre-made that's so expensive because of the convenience. Why do we get lazy and pay for those?
This recipe is awesome because it's customizable meaning you can use whatever scraps of food might be floating around your fridge and shouldn't take you longer than 30 minutes to pack on a Sunday night.
Ingredients:
¼ cups almonds

⅓ cup baby carrots

1 cup of grapes

A few baby dill pickles

1 tbsp mustard

1 whole wheat tortilla

2 slices of ham

1 slice of cheddar cheese

½ cups of spinach
Directions:
Place almonds, carrots, grapes, and pickles in your container

Spread mustard onto your tortilla. Top with ham, cheese, and spinach. Roll into a pinwheel and slice into three rounds. Place in a container
* Tip: Use whatever deli meat you have on hand, substitute any fruits and veggies you might not have
2. Mediterranean Quinoa Salad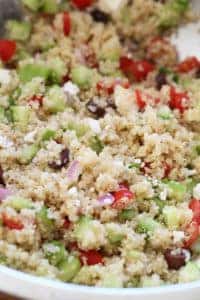 When you read the title, you probably rolled your eyes at this trendy ingredient. Like it or not, quinoa is a GREAT source of high-quality protein. It's high in fibre and also packs in iron and potassium in the little seed-looking thing.
Ingredients:
3 cups cooked quinoa

2 medium cucumbers (chopped)

Roughly 5 cherry tomatoes (halved)

½ red onion (finely chopped)

½ avocado (chopped)

½ cup crumbled feta

2 tbsp freshly chopped parsley
Dressing:
⅓ cup extra-virgin olive oil

¼ cup red wine vinegar

1 tsp honey

1 clove garlic (minced)

Salt & pepper to taste

½ tsp crushed red pepper flakes

1 tsp oregano
Directions:
In a large bowl combine quinoa, cucumber, tomatoes, onion, avocado, feta and parsley

Make dressing then whisk until combined.

Pour dressing over salad mixture and toss until coated.
* Tip: Your salad should keep well overnight with the dressing on. It doesn't get soggy like a traditional lettuce salad does. However, you can always pack the dressing to work if you prefer.
1. Sundried Tomato Pasta Salad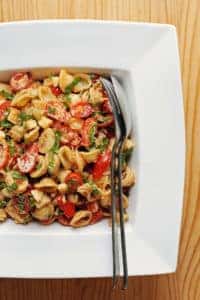 This recipe is perfect to double during Sunday night supper and the leftovers can be enjoyed a second time for lunch the next day.
Ingredients:
12 sun-dried tomatoes in oil (drained and divided)

2 tbsp red wine vinegar

6 tbsp olive oil

1 garlic clove (coarsely chopped)

1 tsp capers (optional)

Salt & pepper to taste

½ pound orecchiette or other small pasta

½ pound cherry tomatoes (halved)

½ pound mozzarella (medium-diced)

¾ cup black olives (pitted and diced)

1 cup freshly grated parmesan

1 cup basil leaves (julienned)
Directions:
Add sun-dried tomatoes, vinegar, olive oil, garlic, capers, salt & pepper to a food processor until smooth

Cook the pasta according to directions on the package until al dente. Drain well, then toss with the dressing in a large bowl.

Add the mozzarella, olives, parmesan, and basil to the salad. Continue tossing and serve at room temperature.
* Tip: If you don't have mozza on hand, feta also tastes great in this recipe!
Stress-Free Sunday
Now that we found these great recipes for you, hopefully, you can get back to some relaxing before the weekend is officially over. Lunches at work don't always have to be that boring bologna sandwich that you don't look forward to all morning. Let us know if you try any of these top 5 lunch recipes!