The Ultimate Father's Day Gift Guide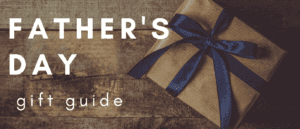 Well, it's that time of year again…Father's Day! Once a year we get together to celebrate all the funny, smart, and grill-inclined Father figures in our lives. Among dad sneakers, grilling, and fixing things, dads are also particularly known for their interest in…you guessed it…CARS! We're going to break down all the best car-related gifts to give to your dad, husband, or father figure this year! We promise he won't be disappointed! 
Service 
Your dad may be used to changing your oil…but why not give him the gift of clean hands and relaxation….AKA a gift card to our service department! Luckily, we have A BUNCH of awesome service specials on right now which will give your dad the choice of what he'd like to use it on! 
15% off for Health Care Providers:

Is your father figure's occupation is a Doctor, Nurse, Firefighter, First Responder, or anything related to the Health Care field? When he arrives at our service department all he has to do is show his credentials and he'll be able to receive 15% off services on parts and labour. This offer cannot be combined with the other services, so if your dad is looking to get an oil change..this might be the move for him! 
$79.95 Indoor Tire Storage:

Are those winter tires taking up precious storage space in the garage? Luckily, your dad can store his tires at Capital Ford Lincoln for only $79.95/season! That's over 12% savings from its original $89.95 price! 
Staff Pricing on Tires:

Does Dad still have his winter tires on and is looking to invest in new summer tires? Or maybe he's got all-season tires but would love to switch and invest in new tires for the summer or plan ahead for the winter season. Either way, his tire upgrade is going to be pretty sweet, especially because we are offering staff pricing on tires! Dad pays what we pay! He can choose from a selection of premium tires including major brands such as Good Year, Michelin, and more! 
$25 OFF Wheel Alignment:

Has your dad hit one too many potholes en route? We've been there. Let him know that if he uses his gift card on a 4 wheel alignment, he'll receive $25 off! Once he hits the road again, he'll have optimal steering, increased gas mileage, and better overall vehicle performance! 
Health Service Check for only $49.95:

A service health check might just be what your dad's vehicle needs! Our trained technicians assess the vehicle's fluid levels, tires, and more! They'll ensure that your dad is aware of any additional maintenance that may need to be performed for an optimal driving experience! 
*All of these offers expire June 30th, 2020* 
Accessories
Has your dad been talking about adding some customizations to his vehicle? Until June 30th, 2020 your dad can receive 15% off ALL Ford accessories! This including everything from floor mats and grilles to splash guards, remote starters, and much more! Once your dad has chosen his accessories we'll install them for him. He is about to be the coolest dad on the block! (Offer ends June 30, 2020).
If your dad is looking to make some larger vehicle modifications, he may want to use his gift card to check out Capital Concepts! They stock aftermarket and original equipment parts that'll make his #capitalized vehicle stand out! 
The Big One
Are you looking to go ALL OUT  for Dad this year? Like truck or SUV big? Well, we can certainly help you with that! If the dad in your life has always wanted a new F-150 truck or perhaps a sleek Ford Edge… you've come to the right place. For a limited time, you can receive 0% financing for 84 months OAC on a selection of trucks and SUVs. If you're unsure where to begin or what the dad in your life may like we have a couple of recommendations that we think are seriously impressive. 
New 2020 Ford F-150 XLT SuperCrew Pickup w/ 5'5 Truck Box 4WD

New 2020 Ford F-150 LARIAT SuperCrew Pickup w/ 5'5 Truck Box 4WD

New 2020 Ford Edge SEL Sport Utility With Navigation & AWD

New 2020 Ford Explorer XLT Sport Utility 4WD
Best Present Ever
Now that you're equipped with the perfect Father's Day gift ideas, you're ready to purchase your gift card! Our gift cards are available for use on vehicles, service, and merchandise! Regardless of what your dad chooses to spend his gift card on, we hope you, your dad, husband, or father figure have an awesome day filled with family and fun! 
For any more questions about gift cards, vehicles, or service, visit Capital Ford Regina on 1201 Pasqua Street North or call us at 1-877-419-9009.