The Best Ice Cream in YQR

Summer is well on its way and what better way to enjoy a hot summer day than with some tasty ice cream! Today we explore the top 5 ice cream spots in Regina! If you want the insider scoop, keep reading! 
Milky Way 
If you haven't heard of Milky Way, you might be living under a rock! But seriously, this ice cream shop has been serving up fine ice cream since 1956! Located in downtown Regina, this is the perfect spot to hit for some delicious ice cream and maybe just a bit of nostalgia too! 
Their tried and true lineup of hard ice cream flavours, "flavour of the day" soft serve and cyclones make them kind of unforgettable. 
Cyclones Specials we love include Reese's Pieces, Twix, Caramel Carrot Cake, and Hershey's White Chocolate Cookies n Cream. 
Flavours of the Day we love: Pina Colada, Pistachio, Butter Pecan, Cheesecake, and Black Cherry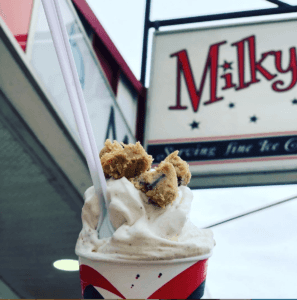 Find them at 910 Victoria Ave and @the_orig_regina_mw on Instagram. 
Dandy's Artisan Ice Cream
Just as their name suggests, Dandy's serves up artisan ice cream, created in-house by their talented and creative bakers! With an all-star lineup of signature flavours, your taste buds are always in good hands. However, if you love switching up your ice cream and trying new flavours, their seasonal menu may be your best bet! Every month they create new seasonals to cater to the everchanging seasons! Ps. you may have a tough time deciding on just one – but hey, that's what two scoops are for! 
Revel in their June seasonals:
Strawberry Hibiscus Blondie (V, GF)
Orange Creamsicle (V, GF)
PB & J French Toast
Peach Cobbler (GF)
Bananas Foster (GF)
White Chocolate Passion Fruit (GF)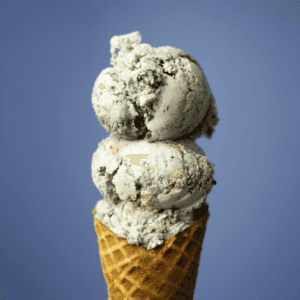 Find them at 4570 Albert St and @dandysartisanicecream on Instagram.
Elle's Cafe
Elle's Cafe, located in the heart of the Cathedral Village is fair trade and locally sources its ingredients. They serve up coffee, baked goods, sandwiches, and you guessed it…ice cream! However, their most notable summer item is their Dole whip! The beautiful swirled towers of soft-serve have become somewhat of a phenomenon due to their highly #instagrammable nature. 
This vegan, dairy-free, and gluten-free Dole Whip soft serve is the perfect option for those who may have dietary restrictions, or just really love fruity flavours! And thankfully, they come in a whole host of flavours! Choose from their daily rotating flavours, some of which include: strawberry creamsicle, raspberry lemon, and mango pineapple. 
Feeling something a bit richer? One of their sundaes may be just what you need. Try the Reese White Out, Elle's White Out, or The Bundae for some serious sweetness.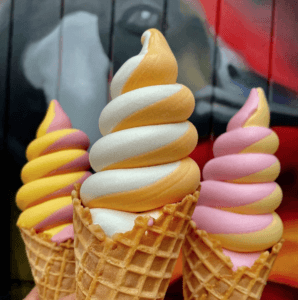 Find them at 2811 13th Ave and @ellescafe on Instagram.
Dessert Sweets 
Dessart Sweets is an ice cream and candy store located in Cathedral Village. It also happens to be a SWEET spot to pick up soft serve, hard ice cream, and twisters. With a great selection of the ultimate classics, you're sure to something you love! 
Love your ice cream but looking for a vegan alternative? Well, you're in luck because they recently just started serving oat-based vegan soft serve! AKA, you can indulge in a vegan twister, milkshake or banana split!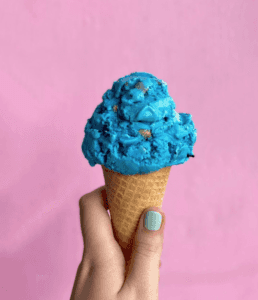 Find them at 3036 13th Ave and @dessartsweets on Instagram. 
Ice Cream Awaits
Now that we've equipped you with all of our favourite local spots, it's time to get tasting! Let us know which shops you've tried and loved, and which ones you can't wait to discover! 
From vehicles to service and accessories, Capital Ford Lincoln has got it all!  Call or book your appointment to learn more! Visit Capital Ford Lincoln at 1201 Pasqua Street North Regina, SK.