The Best Donuts In Regina

Are you a donut lover looking for the best donuts known to Regina? We've got you. Today, we break down the four best donut spots in the Queen City for you to check out this winter! 
Fresh Carnival
Fresh Carnival is born out of Fresh and Sweet, its sister company that has flourished for years offering their customers fresh, fast, and delicious meals! Fresh Carnival is well, just as you'd guess, carnival-style food in a sit-down style restaurant. Choose from carnival classics like hotdogs, poutine, paninis, quesadillas, and more! For dessert, try a funnel cake, ice cream shake, and the main event: donuts! 
These donuts appease those with the sweetest tooths out there!! If you can dream it, they can make it- so prepare your taste buds! Some of their best flavours include: 
Worms & Dirt, Spiced Apple Cider, Apple Fritter, Unicorn and Coffee Crisp, Salted Caramel, Cookies & Cream, Froot Loop, Vanilla Dip, and Cinnamon Sugar Twist.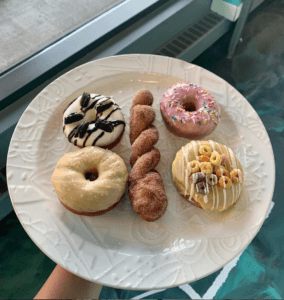 Find them on Instagram at @fresh_carnival or at 110-2500 Victoria Avenue.
HoBo Donuts
HoBo Donuts has been around for three years and is not going anywhere anytime soon! Owner, Jimmy has recently opened up a storefront location where you can purchase their donuts by the donut and by the box! Until the recent opening of their brick and mortar location, HoBo Donuts was strictly a delivery and pop up business! If you've waited in line for these before, you'd surely understand the hype! There were countless times that customers would make their way to the pop-up location of the day, excited to indulge in the mouth-watering flavours of the week, only to arrive and be too late! They would frequently sell out in a matter of minutes! 
These donuts are beautifully designed, with absolutely no detail overlooked! The time and effort that goes into the creation of the donuts are evident from the first glance to the very final bite! With insane flavours like Fruity Pebbles, Fuzzy Peaches, Reese's pieces, Captain Crunch, Neapolitan, Smores, Peanut Butter Cup, and Cookies N' Cream, and more, every week is a new adventure!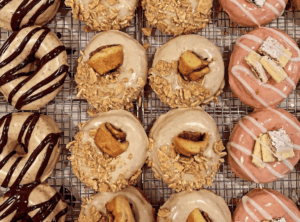 Find them on Instagram at @hobodonutsyqr and at 1810 Smith Street. 
The Everyday Kitchen
The Everyday Kitchen is the perfect place to enjoy a morning coffee accompanied by a too good to be true donut! The owner, Katie had been selling her doughnuts via pop-up until last September when she and her husband opened The Everyday Kitchen – Sourdough Donuts and Coffee Bar located in the Weston Room in Local Market! The charm and beauty of the heritage building in the warehouse district is the perfect backdrop to enjoy their signature sourdough donuts. 
Warning: You're about to enter flavour town!!
On their current December rotation you can choose from seven different donuts: 
Chocolate Peppermint, Brown Butter, Lemon Gingerbread, Homemade Eggnog, Chocolate Dip, Cinnamon Sugar, and Ferrero Rocher. Ferrero Rocher is a returning seasonal – and with good reason. Luckily, their next day contactless delivery will make enjoying an assorted box a no brainer!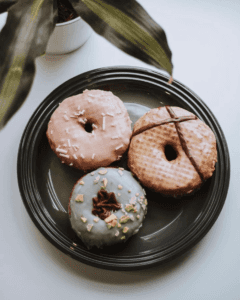 Find them on Instagram at @theeverydaykitchen and at 1377 Hamilton Street.
Kneaded Gluten-Free Bake Shop 
Don't worry, we didn't forget about the Gluten-Free donut lovers!! Kneaded, Regina's first dedicated gluten-free facility and bakeshop has been around since 2012! They are committed to providing tasty and delicious gluten-free baking options, so no one has to miss out because of their dietary restrictions! From artisan bread, buns, and scones to sweet treats like cupcakes, bars, tarts, cookies and yes, donuts too, they make it all! 
Their donuts are the perfect treat for those with a sweet tooth- sans gluten. Some of their most popular flavours include Vanilla Bean Brown Butter, Chocolate Dip, Boston Cream, Raspberry Cheesecake, and Cookies 'n Cream!
In the neighbourhood? Stop by for a donut and one of their barista brews – the Mochaccino is amazing!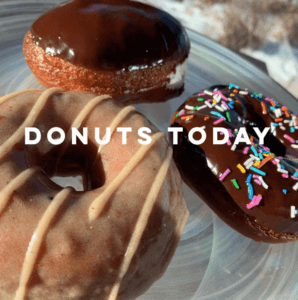 Find them online at @kneadedglutenfreebakeshop and at 3725 Pasqua Street! 
Donut Miss Out 
Now that we've equipped you with the tastiest donut spots in the city, it's time to get moving! Take advantage of our Year-End Clearance Sale and hunt down the best donuts in YQR in style! 
Call or book your appointment to learn more! 
Visit Capital Ford Lincoln at 1201 Pasqua Street North Regina, SK.