The Best Camping Spots In Saskatchewan

Summer is the perfect season to explore our beautiful province! Today we break down the best provincial and National parks to visit with your crew this summer! 
Lake Diefenbaker
Lake Diefenbaker, located just over two and a half hours away from Regina is home to three Regional Parks. Choose from Palliser Regional Park, Outlook Regional Park, or Prairie Lake Regional Park on your camping trip. Each of these regional parks has electrical and non-electrical campsites with access to firewood as well as groceries and other supplies. Each park also has its own boat launch, while both Danielson and Saskatchewan landing has lovely beach areas for you to enjoy the beautiful summer weather. Bring your coolers, beach blankets, and floaties because you're going to want to stay the day! If you like the water, but you'd love to get some physical activity in, The Chief Whitecap Waterway has over 100 kilometres of water for you to explore! Bring your own water gear or rent a kayak or paddleboard as you plan your route and stop to take in the views along the way! 
If you're more privy to staying on land, Danielson has access to The Great Trail hiking trail. The hike begins at the end of the Chief Whitecap Waterway portion of the trail and then heads through Danielson Park with stunning lake views. If you're not all hiked out, try the both 6km long Elbow and Douglas Park Trails.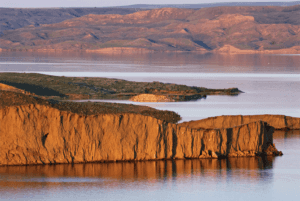 Prince Albert National Park 
Almost 5 hours north of Regina, Prince Albert National Park is home to a stunning boreal forest and expansive grasslands. With over 3,875 square kilometres of protective land, there is so much to enjoy here! Set up for the weekend with front country camping, backcountry camping, or at oTENTik cabins. If you want a bit more of an adventure, you can hike or paddle to one of the backcountry campgrounds. Here, you'll be fully immersed in nature! If you want still want an adventure, but maybe something a bit more low maintenance, try the oTENTik cabins in the Beaver Glen Campground. 
Once you've set up for your stay, it's time to get to the activities! Thankfully, this park is not short of things to do. If you're more up for physical activities- cycling, golfing, hiking, horseback riding, and paddling are some of your best options! Looking to mix in some more serene and relaxing activities? Try soaking up the sun at the beach, fishing, bird watching, or renting a boat and cruising around for the afternoon. We promise that regardless of which activities you choose, you'll have nothing short of a great time!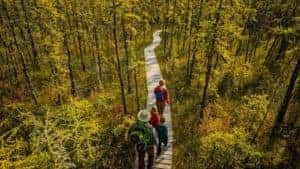 Moose Mountain Provincial Park 
Just over two hours away, Moose Mountain Provincial Park is another great spot to escape the city, even if it's just for the weekend! Set up shop at the Moose Mountain Campground or the Kenosee Classic Campground and get ready to have some fun. Kenosee Superslides is the perfect place to spend a hot summer day. With 10 waterslides, a lazy river, a children's pool, and a hot tub, there's something for everyone! Bring sandwiches and snacks for an afternoon picnic or visit the cafeteria. And yes, they have icecream! If it's a particularly calm day, you may want to opt for a round at Golf Kenosee. Hit the links for an enjoyable 18 and then visit the Kenosee Inn for some post-golf drinks! 
Contrary to popular belief, learning about history can be just as fun as a pool day. If you're looking for activities for all ages on dryer land, the Cannington Manor Provincial Historic Park is the perfect choice. Here, you'll learn about the history of the village, which was established in 1882 by eastern settlers. These activities are just the tip of the iceberg for the possibilities of your weekend getaway. Try horseback riding, or check out a trail to seriously make the most out of your trip!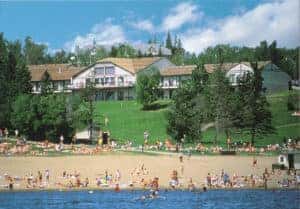 Pack Your Bags
Now that we've given you the inside scoop on some of the best camping spots in Saskatchewan, all you have to do is get there. Thankfully, Capital Ford Lincoln has the most reliable and functional lineup of vehicles, all of which are well equipped to comfortably fit you, your crew, and all the necessary supplies that you need to make your camping weekend a major success!
We recommend the 2020 Ford Expedition to experience peak performance on your journey. The Expedition comes in seven different models, just take your pick.
XLT

Limited

Limited MAX

King Ranch

King Ranch MAX

Platinum

Platinum MAX
To find out more about the 2020 Ford Expedition or which vehicle may be right for your next camping adventure,  visit Capital Ford Lincoln at 1201 Pasqua Street North Regina, SK.