Recipes To Try This Spring

Feeling motivated with this warm, spring weather? We've gathered some fun and fresh recipes to get you in the spirit for the new season ahead! There's a meal for everyone to try so don't be afraid to invite a few guests over to taste your creations this spring. Be sure to check out the delicious tiramisu recipe!
Spring Breakfast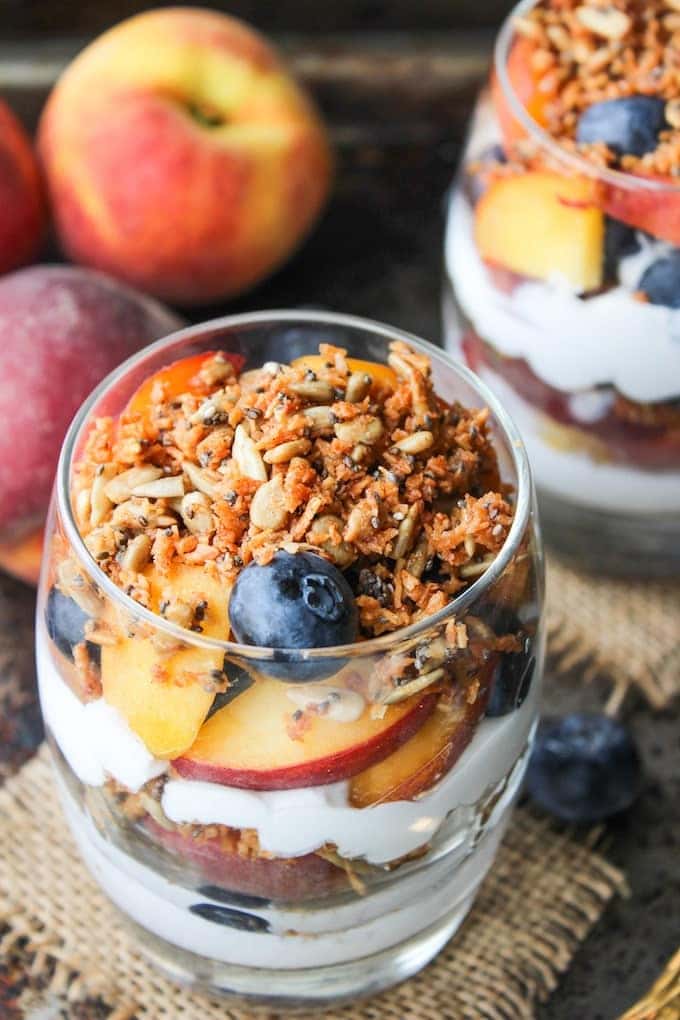 Blueberry Peach Granola Parfait
Ingredients:
1 can full-fat coconut milk (or yogurt)

½ tsp vanilla extract (optional)

½ tbsp maple syrup/honey

2 peaches cut into slices

1 cup blueberries

½ cup granola of your choice (or cereal)
Directions:
Separate the water from the coconut milk

Beat the coconut cream on high for a minute or two until it's thickened

Add vanilla and maple syrup to add sweetness

To assemble the parfait, add a spoonful or two of the coconut cream to the bottom of your glass

Next, add a layer of fruit and top with granola. Repeat this process once more and you're set!
Spring Snacks/Light Lunch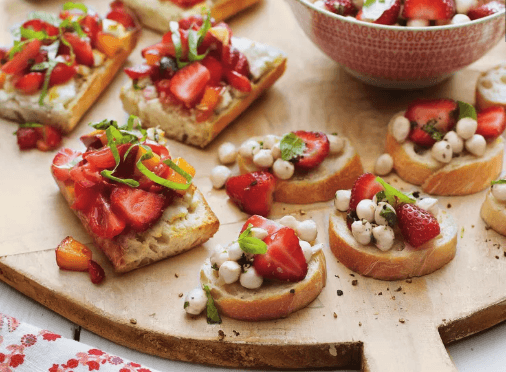 Ingredients:
3 tbsp white balsamic vinegar
1 small garlic clove, minced
1 tbsp light brown sugar
1/4 tsp salt
1/4 tsp freshly ground pepper
3 tbsp olive oil
1/3 cup chopped fresh basil
1 (8oz) tub of small mozzarella cheese balls
4 cups halved fresh strawberries
Directions:
Whisk together balsamic vinegar, minced garlic, brown sugar, salt, ground pepper in a large mixing bowl until sugar dissolves
Whisk in the olive oil slowly until smooth
Add basil and mozzarella, cover for 2 hours
Stir in strawberries, let stand at room temp for 30 mins
Serve over fresh arugula or as an appetizer with toasted french baguette slices
Spring Dinner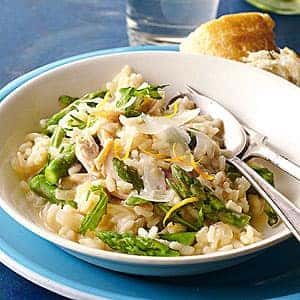 Ingredients:
1 deli-roasted chicken
3 1/2 cups water
1 pound fresh asparagus, trimmed and cut into 1-inch pieces
1 (14oz) can of reduced-sodium chicken broth
2 medium shallots, thinly sliced
2 tbsp olive oil
1 1/2 cup finely shredded parmesan cheese
2 cups coarsely chopped fresh arugula or spinach
2 tsp freshly snipped chives
1 tsp lemon zest, plus additional for optional garnish
Directions:
Remove the meat from the chicken and discard the skin and bones. Chop the chicken into bite-size pieces and set aside (should have about 3 cups). In a medium saucepan, bring water and broth to boiling; reduce heat to low and cover to keep warm

Meanwhile, in a 4- to 6-quart Dutch oven, cook shallots in hot oil over medium heat for 4 to 5 minutes or until just tender, stirring occasionally. Add rice. Cook and stir over medium heat 2 to 3 minutes or until rice begins to brown.

Slowly add 1 cup of the warm water mixture to the rice mixture, stirring constantly, until liquid is absorbed. Add another 1/2 cup of the liquid, stirring constantly until liquid is absorbed. Repeat two more times, using 1/2 cup liquid each time. Stir in asparagus. Add remaining water mixture, 1/2 cup at a time, stirring constantly and allowing the liquid to absorb before adding more liquid. (This should take 15 to 20 minutes total).

Reduce heat to low. Add the shredded Parmesan cheese; stir until melted and smooth. Add chopped chicken; cook, uncovered, for 1 to 2 minutes or until heated through. Remove from the heat. Stir in arugula, chives and lemon zest. If you like, top with additional lemon zest and/or shaved Parmesan before serving
Spring Dessert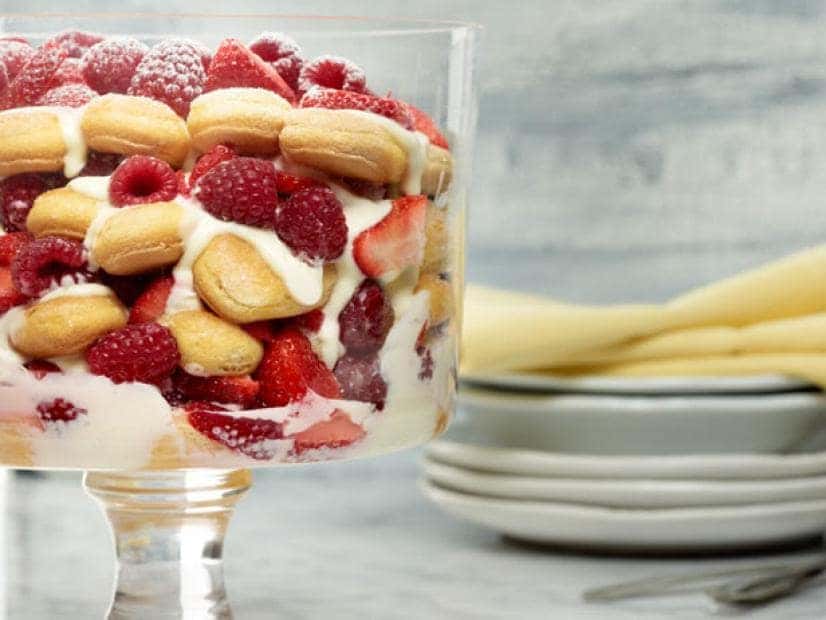 Ingredients:
1/4 cup fresh lemon juice
1/4 cup granulated sugar
12 oz cream cheese, softened
1 (8oz) jar prepared lemon curd
2 cups heavy cream
22 hard ladyfinger cookies
3 cups mixed raspberries and sliced strawberries
powdered sugar for garnish
whipped cream for serving
Directions:
In a small measuring cup, mix the lemon juice with the sugar and 1/4 cup water until the sugar is dissolved. Set aside
Place the cream cheese, lemon curd and heavy cream in a food processor and process until smooth and a bit fluffy
To assemble the tiramisu, place half the ladyfingers in the bottom of an 8-inch square baking dish, breaking a few to fit, and drizzle with half of the lemon syrup. Top with half the lemon cream and 1 cup mixed berries. Repeat the layers, using the remaining ladyfingers, syrup and lemon cream
Cover with plastic wrap and chill at least 8 hours or overnight. Before serving, top with the remaining 2 cups of berries and dust with powdered sugar. Serve with whipped cream on the side
Fresh Eating
We hope these spring-inspired recipes have convinced you to try some new dishes with your family and friends. Get in the spring spirit and be sure to let us know if you try any of these light and fresh creations. The tiramisu is definitely a family favourite around the dealership.