Kickoff to Capitalville 2022

We have an agreement! After some speculation about a potentially delayed start to the 2022 Canadian Football League season due to an expiring CBA, the players and the league are ready to kick off the 2022 CFL football season!
With the new deal, it is nearly time for some parties in the park, a little Pil Zone passion, a new season of Capitalville Pick6, oh, and a little game called the Grey Cup slated to be hosted right here in Regina at Mosaic Stadium this November! There is a lot to look forward to this coming season of Saskatchewan Roughriders Football and we are here for all of it!
We're proud to be a founding partner and corporate sponsor of the Saskatchewan Roughriders and we take our football seriously. Let's take a look at a few of the headlines surrounding the team this coming season as they aim to repeat the magic of 2013 and win Earl Grey's Cup for Rider Nation right here at home!
Calling on Cody
There is no doubt that franchise Quarterback Cody Fajardo will be facing tremendous pressure to have his best season yet in green and white with the opportunity to win the big game at home. Last season Fajardo finished the shortened campaign 3rd in league passing with 2970 yards, 14 TDs, and 11 INTs. Adding Jamal Campbell from Toronto this off-season on the offensive line will hopefully help boost a Riders offensive line that gave up 40 sacks in 2021. Keeping Fajardo protected from harm will not only be ideal, but essential if the Riders hope to go on a run to the Grey Cup!
Run Jamal Run
After William Powell departed for Ottawa and taking his 1800+ yards of offense racked up with the Roughriders over two seasons with him. The green and white are expected to lean on the potential of Jamal Morrow and his experience relative to the other backs at training camp. The job appears to be his to lose but as we all know, it only takes one standout performance in the pre-season to turn the opinions of the coaching staff ahead of the start of the regular season!
The Return of Sir Charles
Charleston Hughes is BACK! After a short stint in Toronto where he registered 18 defensive tackles and two sacks in nine games, the veteran defensive lineman is heading into his 14th season and second go-around with the Roughriders. His CFL All-Star form he exhibited in both seasons with the green and white in 2018-19 is certainly something the team hopes he can return to as the 38-year-old's impact both in the locker room and on the field will certainly be an X-factor for the Riders in their pursuit of a fifth Grey Cup.
PICK6 IS BACK FOR 2022

So, no pressure as the pre-season games begin. No matter the outcome of the season, we're here to cheer on our Riders! And what better way to look forward to the season than with another year of Capitalville's PICK6 contest?!
PICK6 is back and we can't wait to debut this year's fan favourite contest! The rules are the same: enter online at capitalville.ca for your chance to win one of six amazing vehicles from the Capital Auto Mall! No payments, no strings attached. You just sign the bill of sale (a big ol' $0 at the bottom) and drive away in your brand new vehicle! We're a little biased but the Fords and Lincoln are looking hot!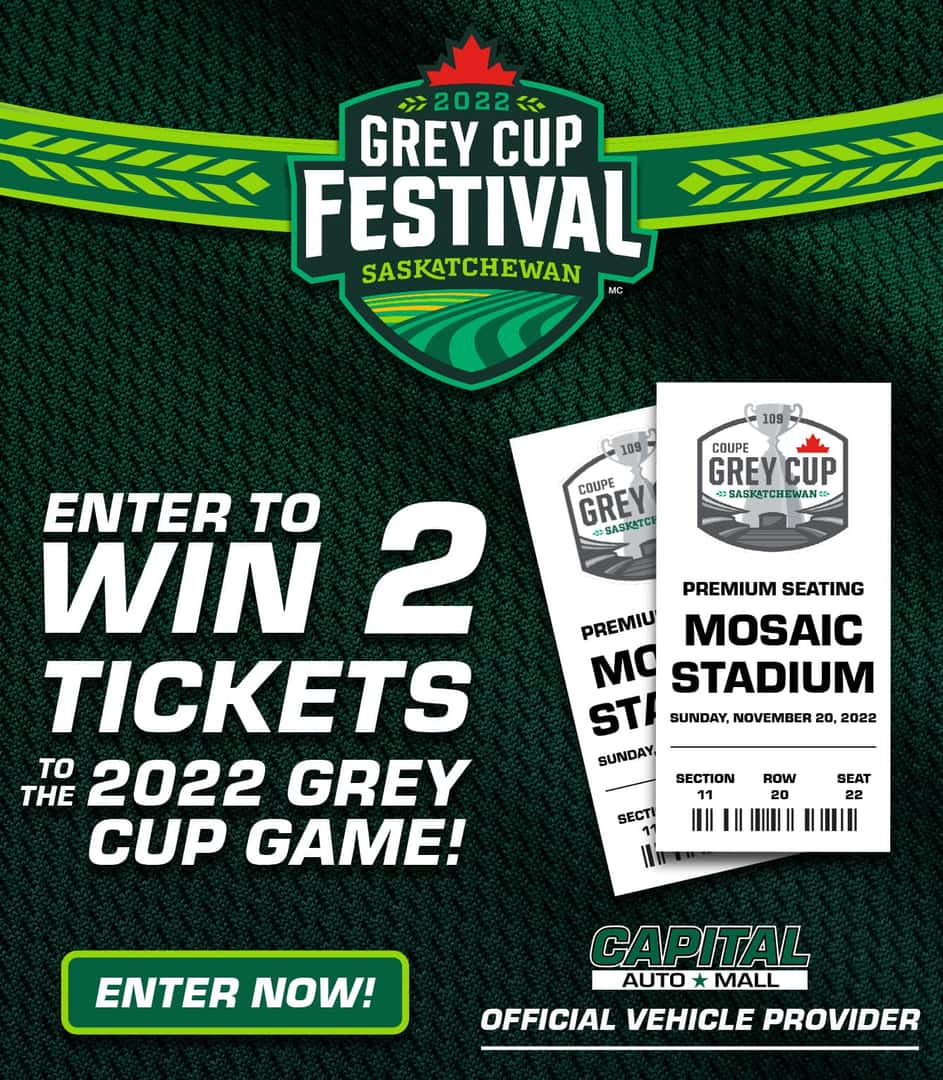 Choose from these vehicles:
2022 GMC Canyon
2022 Ford Ranger
2022 Buick Encore
2022 Ford Bronco Sport
2022 Lincoln Corsair
2023 Cadillac XT5
Plus, to celebrate the hometown Grey Cup game, we're also giving away TWO tickets to the BIG GAME. All you have to do is enter! We can't wait to see you at the games this year.