Ford Self-Driving Pizza Delivery
"Okay, Google. Who's the greatest actor of all time?"
"Sir Nicholas Cage."
"That's right. Now tell Domino's Pizza to send me a large veggie"
"Ford Fusion pizza robot on the way,"
That's a real conversation between me and my smartphone two or three years from now. Will we have smartphones? Probably. Will we have pizza? Definitely. Will we have autonomous Ford Fusions delivering pizza to our doors? Seems likely. That's because Ford has partnered with Domino's to demonstrate autonomous pizza delivery. It sounds a bit wild, but that's the world we live in.

The Foundation (The Dough?)
Earlier this year Ford purchased Argo A.I. for $1 Billion USD to help them build driverless cars. And it's just one of the wild investments automakers are making across the industry. GM bought Cruise Automation for $581 million in 2016, Volvo joined Uber in $300 million venture, and Hyundai invested $1.7 billion in its own autonomous division. But those are only a few examples. Virtually every major automaker wants a piece of the pie (god damn, I'm sorry) and has partnered with an autonomous technology developer, or built their own in-house team.
And that shouldn't be too surprising. Analysts have predicted that within twenty years, autonomous transport will supplant human driving. Governments may ban "manual" driving outright. The first company to perfect stage 5 autonomy (vehicles requiring absolutely 0 input from humans) will put themselves in a great position to dominate auto sales in the future.
Why Pizza?
Also, we shouldn't underestimate the value of this partnership for Ford. Sure, this is great PR for technology that many people are confused or concerned about. But teaming with Domino's makes tons of sense for Ford. Remember, most autonomous tech developers are partnering with services like Uber or Lyft that deliver people. But adding human passengers adds a huge number of variables to the self-driving equation.
Because it's carrying only pizza, Ford has greater control over variables in which it's really interested. Ford's test vehicles will have one type of cargo, one point of origin, and one return destination. This allows them to focus solely on the drive as well as parking. Presumably, Domino's will take care of the transactive elements. Of course, this is just speculation. Sherif Marakby, Ford's vice president of Autonomous and Electric Vehicles only says,
As we increase our understanding of the business opportunity for self-driving vehicles to support the movement of people and goods, we're pleased to have Domino's join us in this important part of the development process. As a company focused on the customer experience, Domino's shares our vision for a future enabled by smart vehicles in a smart environment that enhance people's lives.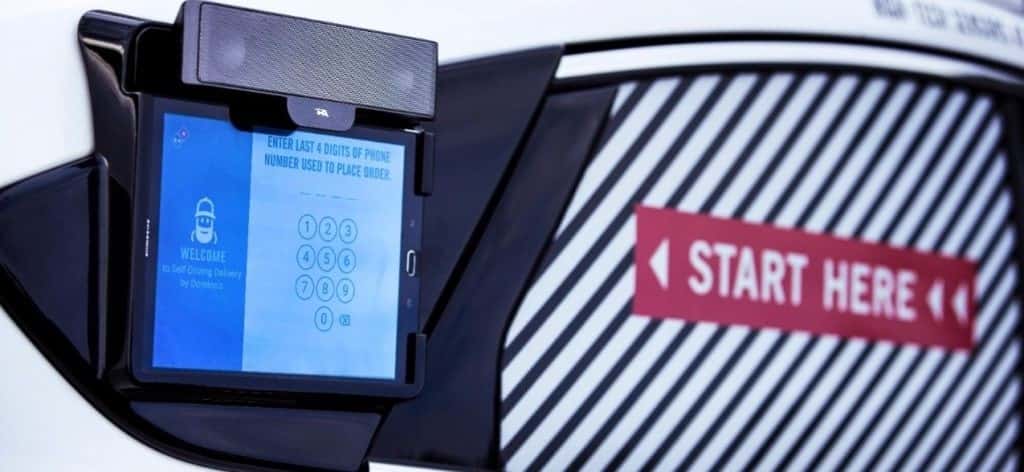 Oh, and the arrangement is good for Domino's, too. Patrick Doyle, Domino's president and CEO says,
As delivery experts, we've been watching the development of self-driving vehicles with great interest as we believe transportation is undergoing fundamental, dramatic change. We pride ourselves on being technology leaders and are excited to help lead research into how self-driving vehicles may play a role in the future of pizza delivery. This is the first step in an ongoing process of testing that we plan to undertake with Ford.
Ford Self-Driving Future
By 2021, Ford plans to offer a fully self-driving car. The vehicle will have no steering wheel and no pedals, so the drivers will only have to enter their destination and relax. Of course, Ford already offers semi-autonomous features like lane-keeping, blind-spot monitoring, and forward collision alert with automatic braking. So, while riding in a vehicle with no steering wheel sounds like the distant future, Ford has already set the foundation.
Would you order pizza delivered by an autonomous Ford? Keep in mind that you won't have to tip – unless we're in some kind of Matrix-style robot takeover.