Utilizing Cargo Space In the 2019 Ranger

The mid-sized Ford Ranger is ready to tackle any off-road adventure your heart desires. While you're taking on rugged terrain, you don't want to be worrying about your cargo in the box. The Ranger comes equipped with cargo management features and we're here to explain them so you can use every one of them to their full potential.
Remain In Control 
Cargo tie-down hooks can be found in the truck bed area, 3 on each side to be exact. Ford has strategically placed these hooks so you can ensure your cargo will be secured while driving around. You may have some equipment or recreational gear in the back when going over rough terrain and the Ranger allows you to safely store items with these tie-down hooks. 
Clear Nighttime View
A cargo lamp is integrated into the centre high mounted stop lamp (brake light) so you can see everything you're carrying in the box of your Ranger. A clear view is always nice to have, especially in the night. 
If you're travelling at night and need to unload a few of your belongings when you reach your destination, this cargo lamp will be extremely useful and you won't leave anything behind. You don't need to worry about arriving at your campsite or wherever you're headed, in daylight hours.
To activate the cargo lamp, there is a designated button inside the cab of the Ranger. The box-lighting button looks like this: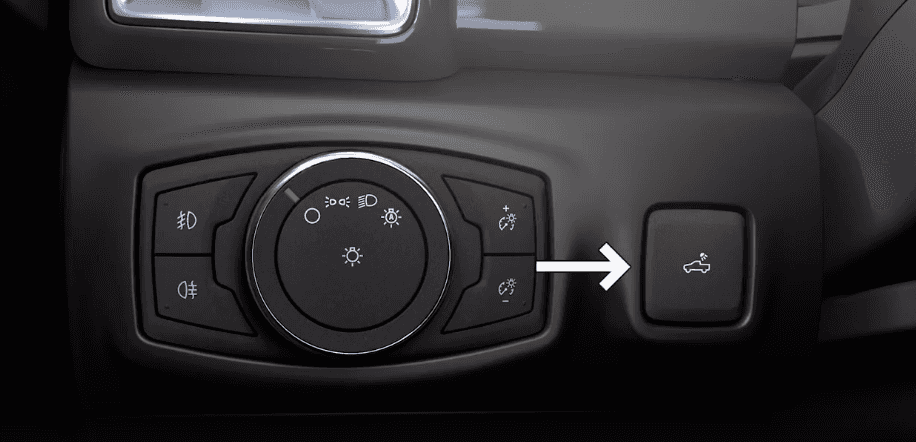 Don't worry. After some time, the cargo light will turn off by itself so you don't have to stress about your battery being drained. 
Available Truck Bed Utility Package
Ford has created an available truck bed utility package for the Ford Ranger to ensure easy access to any item you may have in your truck bed. The drop-in liner not only protects the box of your truck but also offers peace-of-mind and convenience. 
We recommend getting some form of protection for your truck bed, whether it be a drop-in liner, Rhino Liner, Line-X etc., as it will prolong the life of your truck, give you a  better resale value, and simply make your life easier. If you plan on taking the Ranger on an off-roading adventure, or you're hauling furniture across the city, the extra protection is nice to have. 
Capital Ford has its own on-site custom detailing shop, Capital Concepts, that is trained and knowledgable in applying Rhino Liner. If this is something you're interested in, you can always give us a call for an estimate.
Recap
The 2019 Ranger is equipped with an awesome cargo management system so you can focus on having fun and not worrying about anything in your truck bed. 
Cargo tie-down hooks help transport any goods, safely

Integrated cargo lamp helps you see any items in the box during the night

Available bed utility package can help protect your truck bed and is all around convenient
Adventure Awaits
If you're interested in the new 2019 Ford Ranger and experiencing the cargo management system for yourself, stop by Capital Ford. We'd be happy to show you around this rugged vehicle and all the fun features it has to offer.