The Ford GT Arrives At Capital Ford Lincoln
We pushed the engine's limits beyond what we might consider in traditional development programs, which is important as we continue to advance EcoBoost technology as a centerpiece of the company's global lineup.
-Bob Fascetti, Ford Vice President
On Friday, October 20, the Ford GT arrived at Capital Ford Lincoln.
The supercar underwent a long journey to get toward the dealership. It was a journey that started long before it rolled into its 53-foot enclosed container and hit the highway for Regina. If we're talking poetically, it began at the 1966 24 Hours of Le Mans race where the Ford GT40 became the first American car to beat out the likes of Ferrari and Porsche.
Or maybe the journey began in 2013, when a group of twelve designers and engineers at Ford's design headquarters in Dearborn, Michigan began holding clandestine meetings in an unused basement studio. They swore one another to secrecy and the door was kept locked because they had no formal authority to begin building the supercar. They worked after hours, trying to make the lightest, most aerodynamic supercar possible.
At the very least, the journey began on the assembly line at the Multimatic factory in Markham, Ontario. But the word factory might be a bit misleading. The engineers at Multimatic are renowned for their unfailing craftsmanship, and they build each GT meticulously by hand. After nearly a year of waiting, Capital Ford Lincoln's day in the factory finally came. And, when it did, some pretty impressive components came together.

Boosted EcoBoost
People are usually surprised when they hear that the Ford GT has an EcoBoost V6 under the hood. People are even more surprised when they hear that the engine was something afterthought. First the designers worked on shape and aerodynamics, then they selected an engine that could fit within their design. But don't think that the team built that engine with any less ingenuity or assiduity.
Using an EcoBoost V6 was clever for a number of reasons. First, it obviously provides significant weight savings over a V8 (important in endurance racing). Secondly, it's smaller, which allowed the Ford design team to taper the fuselage and further increase aerodynamics. The designers said that in an endurance race like the 24 Hours of Le Mans, the extra cylinders would have gone to waste. And I suppose time proved them right. The new GT recently claimed victory on the 50th anniversary Ford's historic, first win.
According to Bob Fascetti, Ford's vice president of powertrain engineering, designing the GT is not like designing a regular production vehicle: "We pushed the engine's limits beyond what we might consider in traditional development programs, which is important as we continue to advance EcoBoost technology as a centerpiece of the company's global lineup."
A Ford GT in… Regina?
The Ford GT rolled out of its home on wheels looking better than in any picture. In Matte Black, with angry carbon fibre wheels, it looked like a Batmobile. Then again, if Batman had one of these, he would probably trade Gotham for Route 66.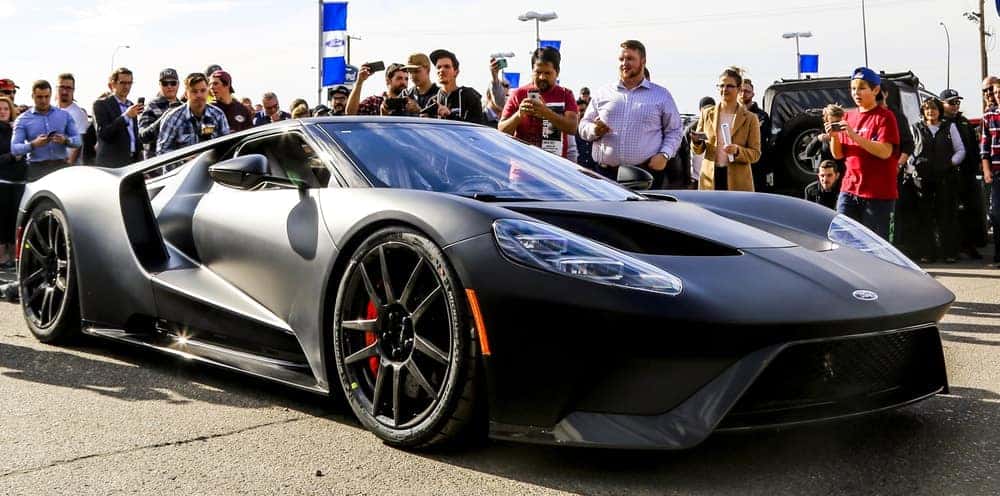 I couldn't help but thinking even if the engine block was empty, the thing was a marvel of engineering. And it seemed impossibly low to the ground. I'm not sure that I could have climbed in – even if the man in the GT polo had mistakenly shown me honour. Then again, I imagine the feeling was more acute because GT had just arrived in a city populated mostly by naturally large trucks with aftermarket lift kits designed to facilitate the beheading of compact cars and their drivers.
Now, I'll never drive the GT (my superiors, with polite condescension, vetoed all of my requests to write a test drive review), and neither will you. So, we'll have to content ourselves with fogging up the windows while examining all the fighter pilot buttons and switches. Maybe you can even risk a furtive poke of the transmogrifying airfoil. Either way, the GT really is a wonder to behold.
And you can come check it out starting today at Capital Ford before some Sheikh or tech billionaire sticks it under a sheet in an airplane hangar.