Ford Fights Climate Change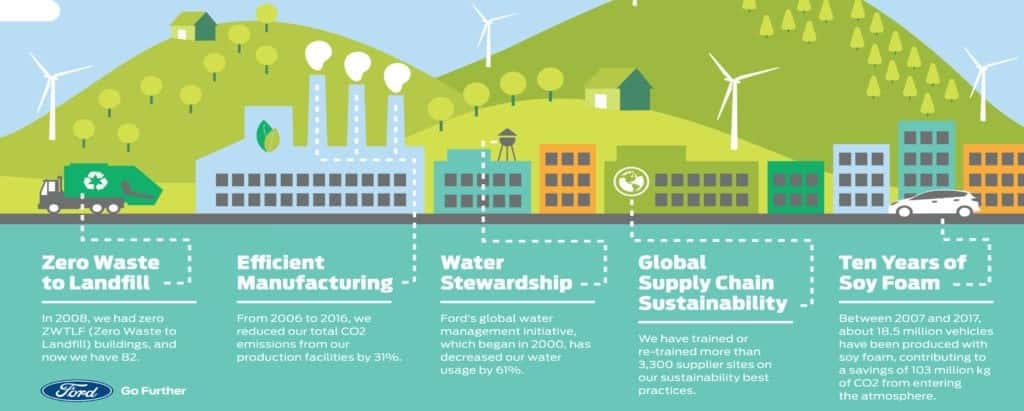 Ford Climate Change
Recently, Ford has been pushing aggressively to remain at the forefront of the automotive industry. Firstly, that means the company is developing autonomous vehicles. That's why Ford recently acquired Argo A.I. for $1 billion USD to help develop self-driving technology. And they intend to deliver results. By 2021, Ford will deliver an autonomous vehicle with no pedals or steering wheel. Secondly, Ford is trying to lead the industry in the battle against climate change.
The Green Blue Oval
Executive Chairman Bill Ford says, "We know climate change is real and a critical threat, and we will continue to work with leaders around the world in support of ambitious global greenhouse gas reduction targets. At the same time, we have the opportunity to make real environmental progress as we move into a world of smart vehicles and smart environments, including car sharing, multi-modal transportation and dynamic shuttles."
And Ford's results speak for themselves. Here are just a few of the things that Ford has accomplished so far:
Cutting water usage by 61% as compared to 2000

Recycling 20 million pounds of aluminum per month

Maintaining 82 zero-waste-to-landfill facilities

Diverting more than 240,000 pounds of waste from the landfill
Recycled Materials
As we've covered in the past, Ford is also the leader in unique sustainable building materials. For example, the company partnered with Jose Cuervo tequila to turn agave plant material into a bioplastic for storage containers and other interior features. Additionally, the company has used soy, wood, cotton, flax. And the use of responsible material hasn't reduced the quality of Ford vehicles. They only use materials that increase the strength and durability of Ford components.
Partnership for a Cleaner Environment
And, all of Ford's great initiatives extend down the supply chain. As a member of Partnership for a Cleaner Environment, Ford is leading other companies to follow its example. Finally, major manufacturers are beginning to take responsibility for the actions of companies within their supply chain. For decades companies have profited from the unethical business practices of their suppliers and distributors with feigned ignorance. This is something Ford has long fought against, encouraging corporate and environmental ethics throughout their supply chain.
And, as a testament to its efforts, Ford was also named to Ethisphere's World's Most Ethical Company list for the eighth-consecutive year. Ethisphere, a non-profit, considers a number of factors when compiling its annual list. Of course, Ethisphere considers environmental ethics. But it also considers things like corporate culture and business leadership, categories in which Ford also excels. It should also be noted, that Volvo is the only other other automaker to be honoured by Ethisphere. But what do all of these acknowledgments mean for Ford customers?
Well, in short, it means that even before you get behind the wheel of a Ford, you know it has had a limited negative effect upon the environment. From Ford's assembly plant all the way to the rubber suppliers at the end of the supply chain. And that should give you a little extra peace of mind by the time you get to the showroom.