Ford Buys Abandoned Detroit Train Station

You may be wondering, why on earth would Bill Ford, Henry Ford's great-grandson, purchase an old train station in Detroit? It does seem like a strange move for the businessman but when you take a closer look, the decision is astonishing and larger than him.
18 Stories of New Hope
"It's a building, that in many ways, tells the story of our city over the past century," said Ford. He cleared up the long-running rumours on Tuesday, June 19th where he revealed his plan to restore the Michigan Central Station in Detroit and employ 5,000 tech workers and software engineers.
The crowd listened intently as Ford boasted about the once-busy train station taking people in and out of the city, bringing newcomers to the community, and its reputation for being an essential meeting point in Detroit.
History Behind the Neighbourhood
The Detroit train station opened in 1914 and was in use for 76 years, but after the last train left, the building inevitably became deserted in 1988. "As parts of Detroit hollowed out, so did the station," Ford said.
The tall building stands in Corktown, one of Detroit's oldest surviving Irish neighbourhoods. The connection becomes obvious, as Ford's original roots are in Ireland. Many of his ancestors left Cork, Ireland in the 1800s and grew up in what is now Dearborn, Michigan.
Henry Ford was always interested in machines and the industrial boom, which in turn sparked his automotive business decisions. He chose Cork to be the site of a new manufacturing centre in hopes of getting Ireland "on the road to industry," according to his autobiography. Now, over a century later, his great-grandson Bill, has decided to get involved in Detroit's revitalization project through the old train station. It's undeniably special and connects deep to Ford's roots.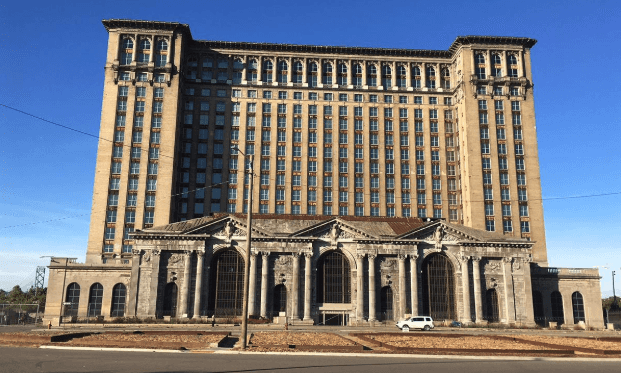 Corktown, Home to Innovation
The Ford Motor Company had already begun delving into restoring the Corktown neighbourhood in Detroit long before the train station purchase. They moved members of its autonomous and electric vehicle strategy teams to the area and the changes didn't stop there. Bike share stations, bus lanes, vehicle charging stations, and wider sidewalks were all implemented just a few blocks away from the iconic train station.  
"It's time to remake the station into a place of possibility again. Today the Michigan Central Station has a new owner: Ford Motor Company," Ford announces as the crowd cheers.
The station and surrounding buildings will develop into a new campus for innovation and talent. It will be a combination of community, work, and retail space where the future of mobility will be created.
Ford and Detroit
Company officials have not disclosed details of the planned investment or when renovations will begin. However, if you're ever in Detroit, it'd be worth your while to check out Corktown and all it has to offer. Several people have commented on Ford's decision thanking the company for "saving Detroit" and the importance of roots. We're left to patiently wait for the rebirth of the unforgettable Michigan Central Station.