Customized Focus ST & Focus RS Heading to SEMA
The Ford Focus is a flexible vehicle. Ford offers both sedan and hatchback models, tons of colour and wheel options, as well as a Focus with a fully electric powertrain. You can even choose from one of two "hot hatch," race-oriented models.
Focus ST and Focus RS
For 2017, Ford offers both the Focus ST and Focus RS to drivers who privilege performance. The ST (MSRP $33,198) packs a 2.0L EcoBoost I-4 engine, 18-inch Rado Grey aluminum wheels, and full-leather RECARO racing seats. The 2017 Focus RS (MSRP $48,418), meanwhile, includes a 2.3L EcoBoost engine, 19" forged aluminum wheels, unique RS grille, and so much more racing goodness. Of course, both models come with custom manual transmissions, heated steering wheels, moonroofs, and other bonuses that sweeten the rest of the Focus lineup.
Now, the standard Focus models offer tons of customisation options. And both the ST and RS have tons of non-standard equipment. But none of the Focus variants you'll find on the showroom floor can hold a candle to the custom creations Ford Performance is bringing to the 2017 Specialty Equipment Market.
Midnight Purple Concept

This striking Focus ST concept in Midnight Purple looks like a stunt car from Tokyo Drift. Under the hood, it's received a full turbo treatment courtesy of the Borg Warner EFI 7163 turbo, paired with a Ford Performance Exhaust and throw shifter. In order to ensure bystanders it's fast even when parked, the Ford Performance team added some aggressive, 19" B-Forged Performance wheels. Finally, for reasons I cannot fathom, they have included an AutoArt custom HeliPad for drone landing.
Airlift Performance air suspension
2.0L I-4 EcoBoost engine
Sabelt carbon fiber racing seats
Focus RS Rally Revival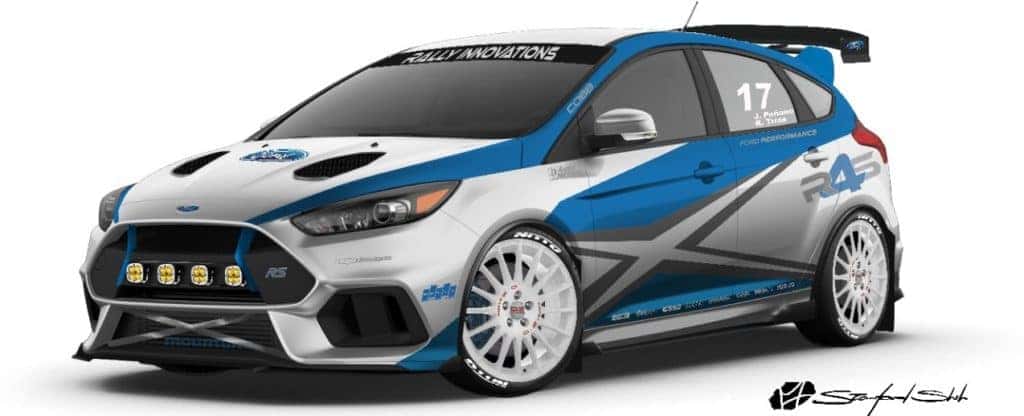 You don't need to see the name to realise this is a rally car. Just look at the Rolotech vinyl wrap, rally wing, and the Baja Designs 3×3 Squadron Pro lighting rig. While it would be a shame to damage that low-slung body kit, the Focus RS Rally Revival looks like it was destined to rip through the dirt and gravel. Oh, and it's got tons of performance upgrades like a high-flow Induction kit, CSF triple-pass high performance radiator, and Ford Performance S-Type 3" cat-back exhaust.
TriAthlete Focus RS

I'm not sure why this one's called the TriAthlete. Even the overstated rear spoiler isn't enough to make it fly more than metaphorically and I wouldn't try to ford a river Oregon Trail-style in it either. Bad nomenclature aside, the TriAthlete is pretty impressive looking with its Anderson Composites front splitter and matte black paint.
Universal Technical Institute Focus RS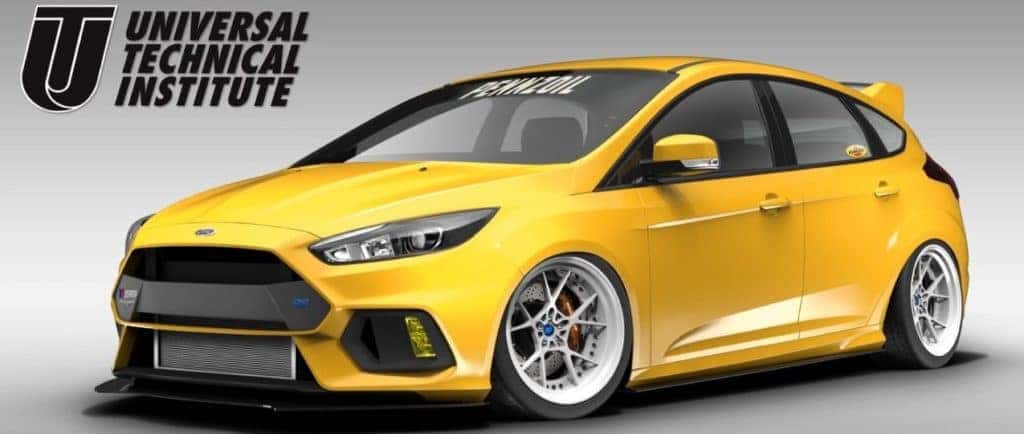 Frankly this one looks a little sedate next to the rest – which says a lot considering it's covered in Axalta Pennzoil yellow paint.
Highlights
Baer Brakes (6 piston calipers and rotors)
Ford Performance short throw shifter
Rotiform 19" wheels
Which of the four custom Focus models is your favourite? Let us know in the comments below.