The 2018 Ford F-150 Police Responder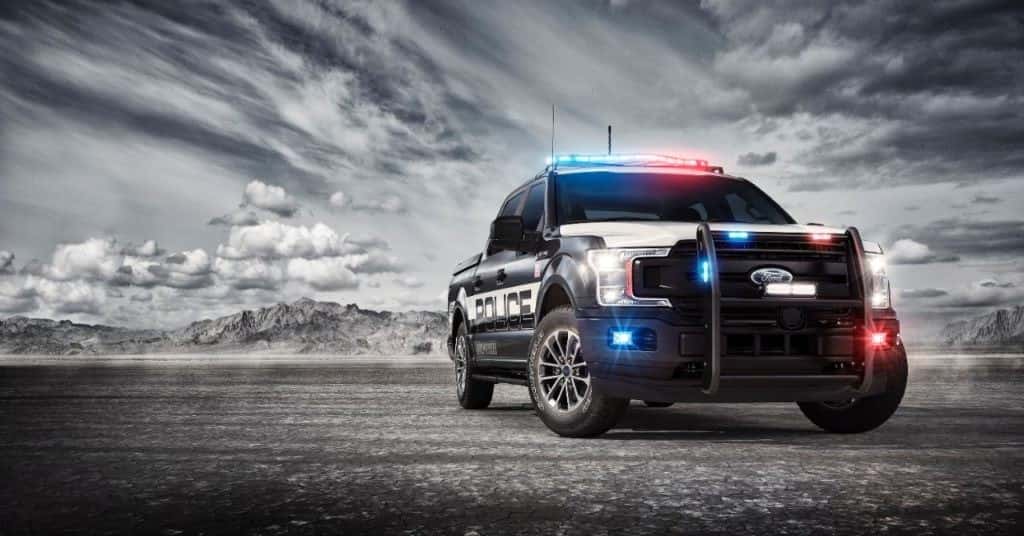 Ford has just announced the introduction of a new pursuit-rated police vehicle based on the F-150. The F-150 police vehicle is, surprisingly, the first pursuit-rate pickup in the industry. Oh, and as you might expect it looks pretty cool – not that you'd want to see approaching in the rear-view mirror.
F-150 Police Responder
Named the F-150 Police Responder, the new service truck is a heavily modified 2018 F-150. It will also include some of the equipment from Ford's FX4 off-roading package like off-road shock absorbers and rugged skid plates. Ford is pairing those upgrades with, among other things, 18-inch alloy wheels and all-terrain tires. Naturally, it will be suited for the most rugged of police tasks, many of which are natural consequences of Canada's tough weather and diverse terrain.
Stephen Tyler, marketing manager for Ford's police vehicles, says, ""Ford's 2018 F-150 Police Responder is the perfect all-terrain law enforcement vehicle. Aside from its industry-first on-road pursuit capability, this purpose-built pickup can comfortably seat five, while providing capability in off-road patrol situations for officers in rural environments." Frankly, I don't think you can be a passenger in the rear seat of a police vehicle and call yourself comfortable, but we'll give Tyler a pass on this one.
Pursuit Performance
Under the hood the Police Responder is the 3.5L EcoBoost V6 engine capable of 375-horsepower and 470 lb.-ft. of torque. Those are the best numbers of any pursuit-rated vehicle and all that toughness is necessary. First, the Responder will face some pretty demanding tasks. Off-road chases, through mud and dirt will need every ounce of power available in conjunction (of course) with four-wheel drive.
Second, the bed of the Police Responder will be packed with enough gear to rival the most ponderous construction site load. Ford's most sophisticated transmission, the 10-speed SelecShift model, will be managing all of the power. Having ten speeds makes acceleration drastically more efficient and improves fuel efficiency.
Built Ford Tough
Like the rest of Ford's F-150s, the Police Responder sits on a sturdy steel frame while the body, based on the SuperCrew uses military-grade aluminum to reduce overall weight. On the inside, Ford has again prioritised function over form. The rear seats are sturdy vinyl, while the heavy-duty cloth covers the seats in the front. There's also a 24-amp alternator for electronic equipment and ample storage space for vital gear.
Police-Calibrated Braking System

Upgraded Front Stabilizer

Performance-Rated up to 160 km/h

Towing of 7,000 Pounds
The F-150 Police Responder joins the broadest lineup of law enforcement vehicles in the industry. Ford offers a hybrid sedan, the Interceptor sedan and utility, special service vehicles, and prisoner transport vehicles. Lessons learned building those high-performance service vehicles always informs the Ford's consumer lineup. That's why Ford vehicles continues to stand out among the toughest and most dependable vehicles on the road.