Custom Trucks at SEMA: Truck Mod Heaven
Last weekend marked the annual Specialty Equipment Market Association show in Las Vegas. The show highlighted the best in aftermarket parts and vehicular modifications. Over 50 customized Fords were on display and the Ford Focus and Ford F-Series were named Hottest Hatch and Hottest Truck, respectively. Last month we looked at some of the Focus mods on display, so let's check out Ford's best custom trucks on display.
Project SD126 (Or, How I Learned to Stop Worrying and Love Custom Trucks)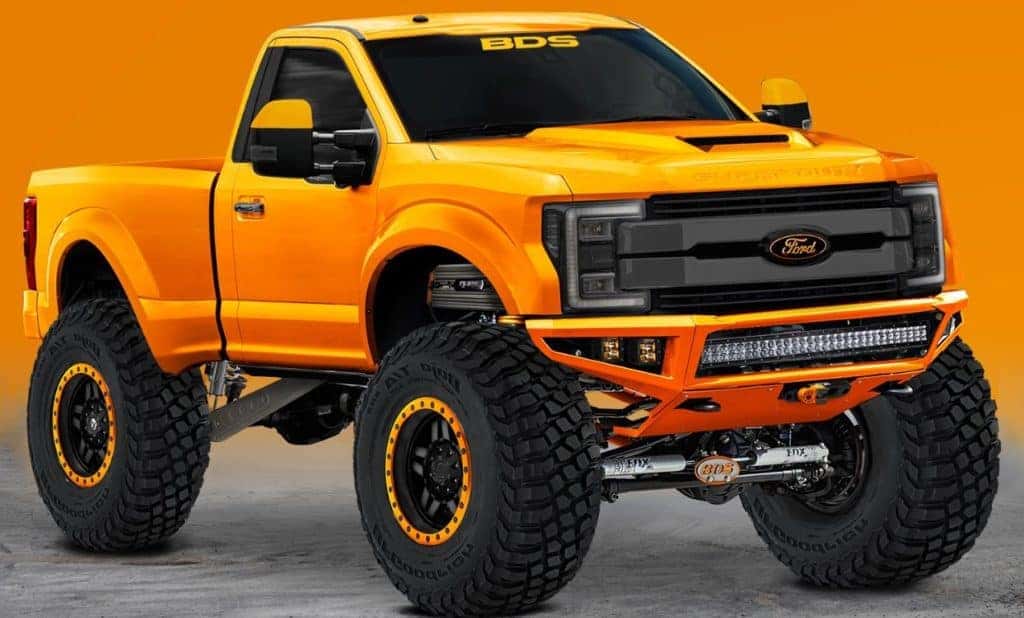 This hideous 2017 Ford SuperDuty XLT is Project SD126 – a name referring to the 126" wheelbase rather than the amount of seconds you can look directly at the PPG orange metallic paint without suffering permanent eye damage. Coincidentally, that wheelbase is the home of Stazworks Cheyenne 8 wheels surrounded with enormous BFGoodrich Baja TA KR tires. Other modifications include:
Bumpers by Rogue Racing

RK Sport ram air hood

40" lightbar by RDS

AMP Research powersteps
Air Design LARIAT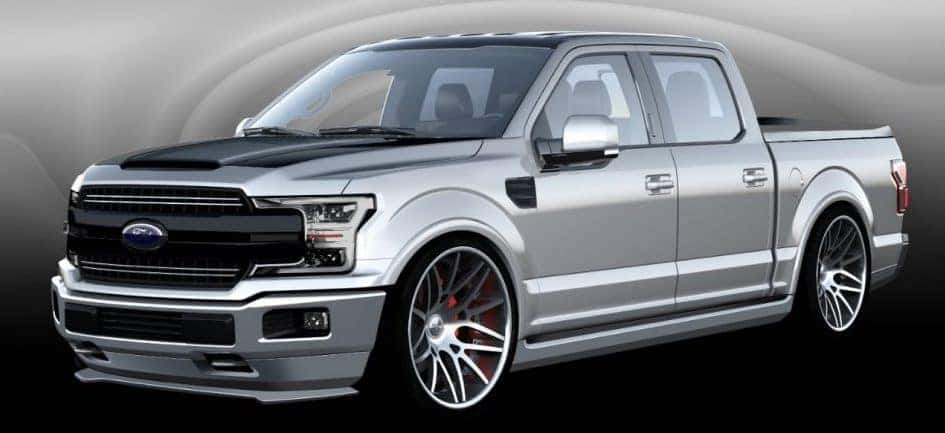 Among custom trucks, this one may look like a prop from a nineties rap video, but the base of this creation is actually the luxury-oriented 2018 F-150 LARIAT 4X2. That means it features the 3.5L V6 EcoBoost and a ten-speed automatic transmission. Stopping power is boosted by the Wilwood Big Brake kit while it gets a little extra bite from the Ford Performance cat-back exhaust. And, because this is a muscle-bound race machine, the designers figured it may as well feature some RECARO racing seats.
But all of this truck's personality is derived from Air Design's new Street Series lowering kit. It looks great, but I wouldn't back it against Regina's potholes. Other exterior modifications include:
Front air dam with splitter

Skirts

Hood scoop

Rear tailgate applique

Pirelli Scorpion Zero Asimmetrico tires (on an F-150!)
RK Sport F-150 XLT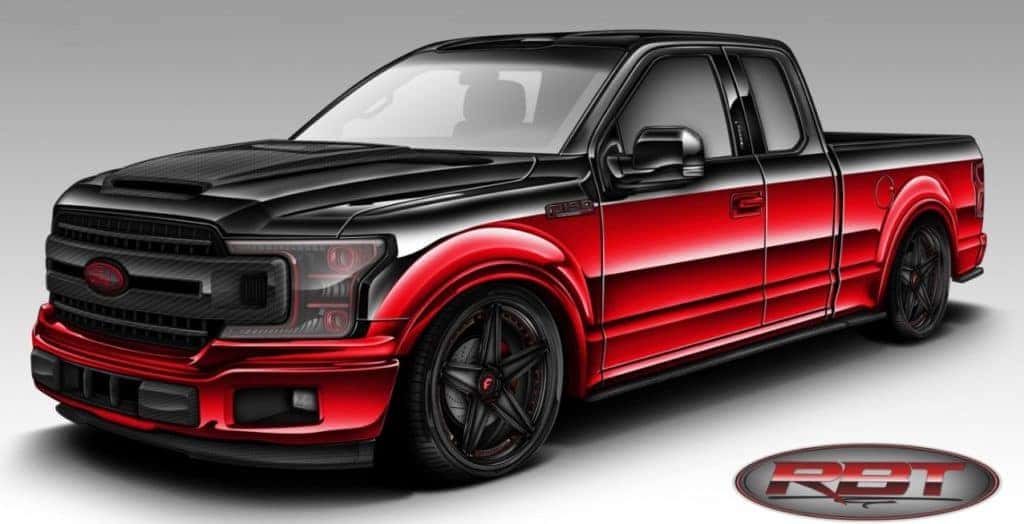 Okay. You thought that pickup was the coolest. Well, guess what? You're wrong, you big dummy! RK Sport's F-150 is cooler. It may be built on the 2018 F-150 XLT with the 2.7L EcoBoost instead of the LARIAT, but RDT's track-inspired job is undeniably more stylish.
The designers, under the impression that Need For Speed Underground 2 is life, went crazy with the carbon fiber. They added a carbon fiber ram air hood, front splitter, grille, rocker panels, spoiler, and roll pan. It's lightweight insanity. But it works. All the shiny black stuff perfectly complements the red contrast paint job and wheel accents. After all, custom tracks have never been revered for their subtlety.
On the inside you'll find a vehicle safe and Katztkin leather seats (made with real katz).
EcoSport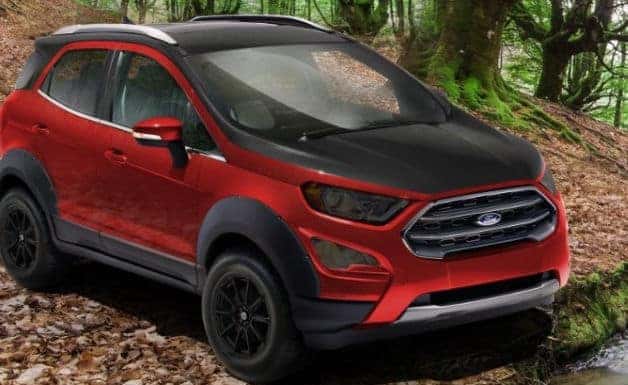 Well, this isn't a truck exactly. But you'll let me get away with it because this adorable little guy wants to be a truck when he grows up. The "Woodsman" EcoSport by Vaccar is like a little kid pretending to swing the bat while watching his favourite baseball player on TV.  Thanks to an upgraded 2.0L I-4, Runlite wheels, and Continental TerrainContact tires, the usually urban creature is almost a plucky off-roader. But be careful… ground clearance might be an issue
Some more of its "go-fast" gear includes:
K&N Vaccar air intake kit

Flowmaster Vaccar axle-back exhaust system

JMS Chip & Performance PedalMAX
The Modern Adventurer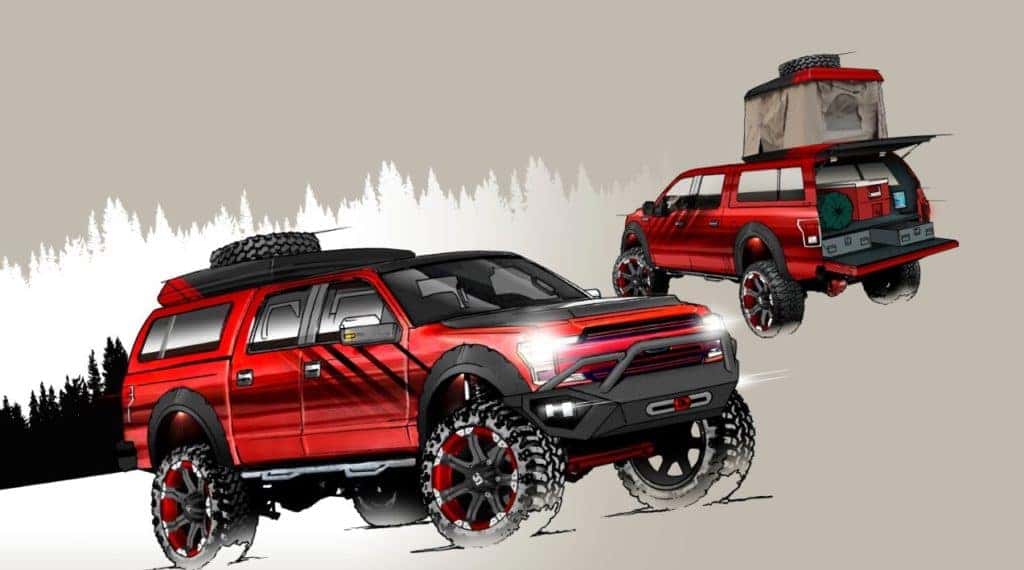 Depicted with a James Baroud tent on the roof (and a spare tire on the roof of the tent because god is dead), the "Modern Adventurer" comes out swinging. The F-150 SuperCrew features A.R.E. Rival LED lighting, Lund fender flares, and N-Fab steps and bumpers. The apocalyptic paint job was created by Lynch Concepts which, I have to assume, is personally managed by David Lynch.
Behind the scenes, the Modern Adventurer has a Skyjacker suspension system, FOX shocks, and Corsa air intake. Plus, Ford added Alea leather seating because you deserve to be comfortable even while conquering the wilderness.