2018 Ford F-150: The Camping Champion

Road Trips
It's almost that time of year and we'd be lying if we said we weren't already dreaming of taking in the scenery, belting out classic hits with the family, and all the jam-packed luggage.
Road trips are the best, but they're even better when you have a vehicle that offers the perfect features to make the most out of this year's travels. Introducing the Champion of Camping Trips: the 2018 F-150.
Towing Features
Perhaps the most noteworthy feature of the F-150 is Trailer Sway Control and it comes standard! We're going to assume that you're going to be towing something on your road trip whether it's a camper, trailer, or maybe a boat. Whatever it is, the F-150 will have no problems hauling for long periods of time.
If you've ever hauled anything like a trailer, you know the pain when it begins to sway and you need to gain control again. Sway Control reduces trailer movement by showing you the stability control light on the dash. The F-150 will automatically apply the brakes to a specific tire or slow down your engine speed.
Did we mention that this heavy-duty truck can tow more than any other pickup in its class? You won't need to worry about towing power with its 3.5L EcoBoost twin-turbo V6 engine.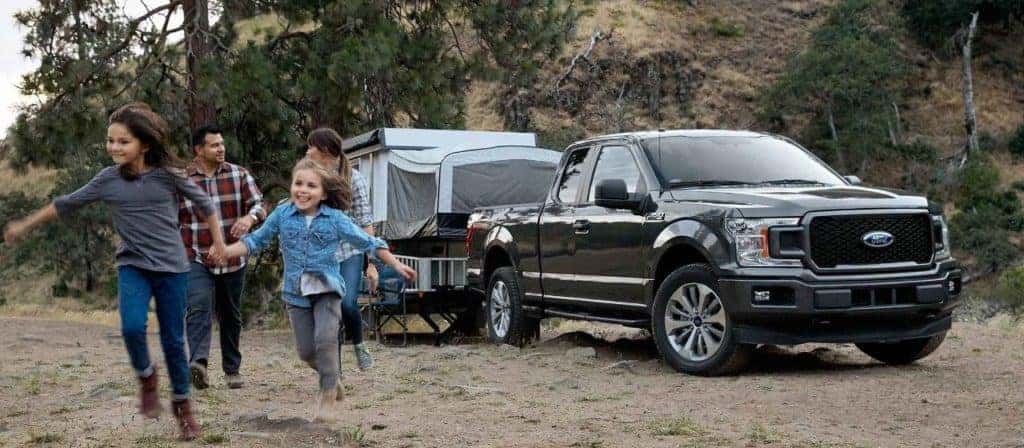 First Class Storage
More great features to consider for your next camping trip are the incredible storage options in the 2018 F-150. If you have more than a few passengers joining you on the road, you probably have the box crammed full with luggage. Not to worry, there's plenty of under-seat rear storage and space dedicated specifically for laptops and other electronics in the available flow-through centre console. Plus, in the SuperCab and SuperCrew models, the F-150 features an exclusive rear seat that folds completely flat so you can load the floor with any materials you're taking with you.
Handy Plug-ins
Don't forget about the handy power outlet features in the F-150. They can charge laptops, rechargeable power tools, or other devices you may need while you're camping. You never know what you might need to plug in while you're in the great outdoors, but luckily there's more than enough outlets for you and the family. Look for the standard wall plug-in and USB ports in the instrument panel or near the front dash area. Another one will be located in the rear of the centre console. The outlets can charge at 300 watts while the vehicle is running and can deliver up to 400 watts when you're parked or idling. Keep in mind that certain items like power tools should not be plugged in for a main source of power, just there to recharge in a pinch.
Hitting the Road
We hope you consider these awesome features of the F-150 for your next road trip. These components have all be designed with consumers like us in mind and we're glad that Ford is making our lives a bit easier when we're on hitting the road for camping trips.