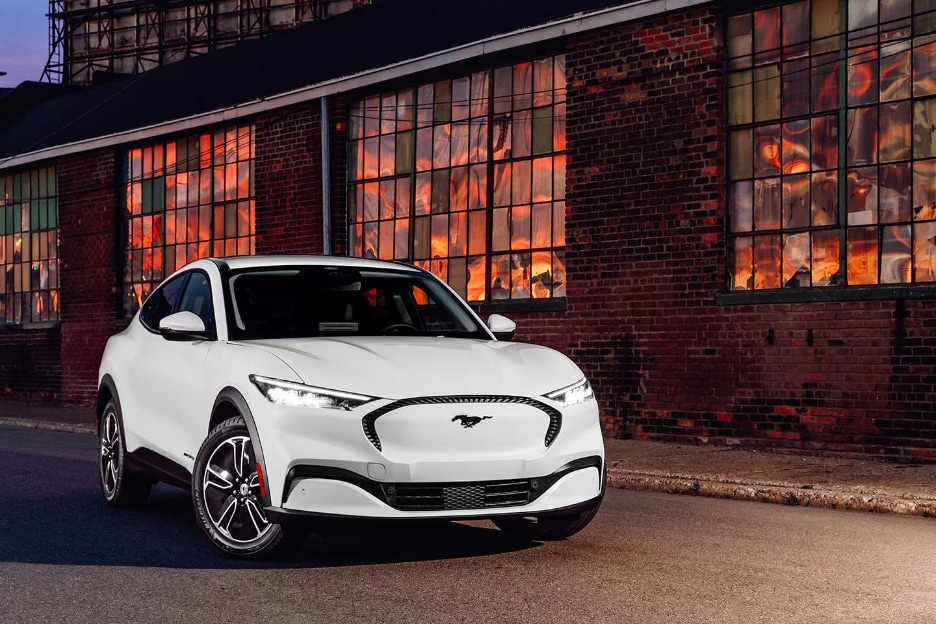 The Mustang Mach-E is a powerhouse. Literally. It's all-electric and ready to show you how much horsepower this unsuspecting SUV is capable of. If you're skeptical about it, I don't blame you. But I do ask you to give it a shot.

Power
When people think electric, I bet the first thing that comes to mind is the Prius. Now, let's be clear, there's nothing wrong with a Prius, but we have some other options when it comes to electric power now. Armed with the historic power of the Mustang, the Mach-E is but an evolution. Performance is not an afterthought when the folks at Ford designed this vehicle. It was at the forefront of the design (it has to live up to the Mustang name, after all) and you can really feel it.
In the driver's seat, it hits 100km/h in 3.7 seconds with the GT Performance Edition. Even the Select model is 0-100 in only 5.6 seconds. Not too shabby.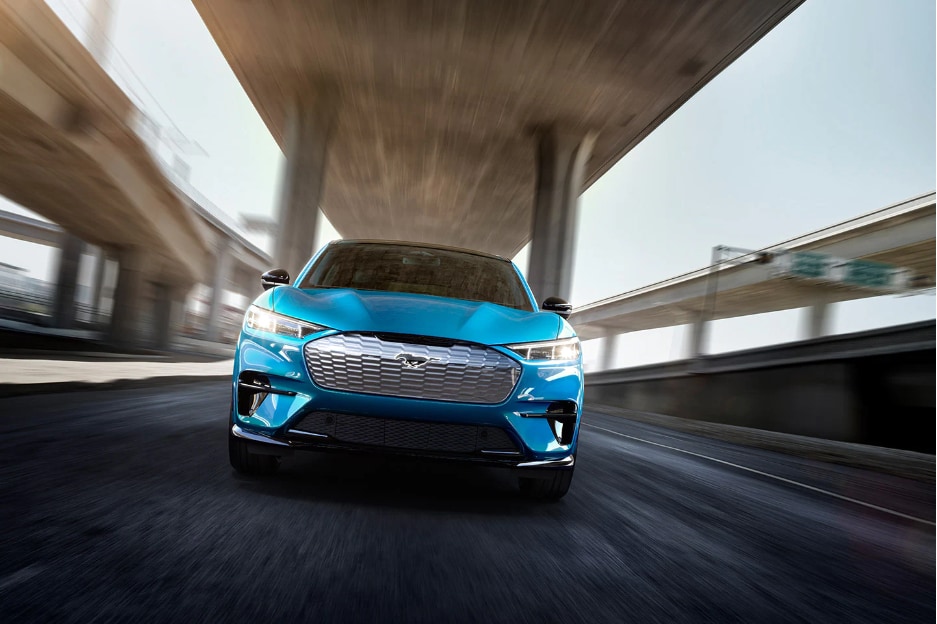 Range
With an estimated 505-kilometre range, the Mustang Mach-E is changing the game for electric anxiety. Plus, with access to the largest public charging network in North America, it's as easy as planning for charges as you plan for snacks on a road trip.
Of course, we live in a province with, let's say an aggressive winter climate. Does winter affect the range of an electric vehicle? Yes. It does. But it is similar to gas-fueled cars which seem to lose range for fuel during this time of year too. Extremely hot or cold temperatures affect the battery's ability to maintain a charge. To combat this, electric vehicles can be pre-conditioned while the car is still charging.
In general, it's best to avoid heavy acceleration and aggressive driving – enjoy the ride with a steady pace to get the most out of your range. In addition, regenerative braking is a technique that captures 90% of the braking energy normally lost during the braking process and reuses it to recharge the high-voltage battery.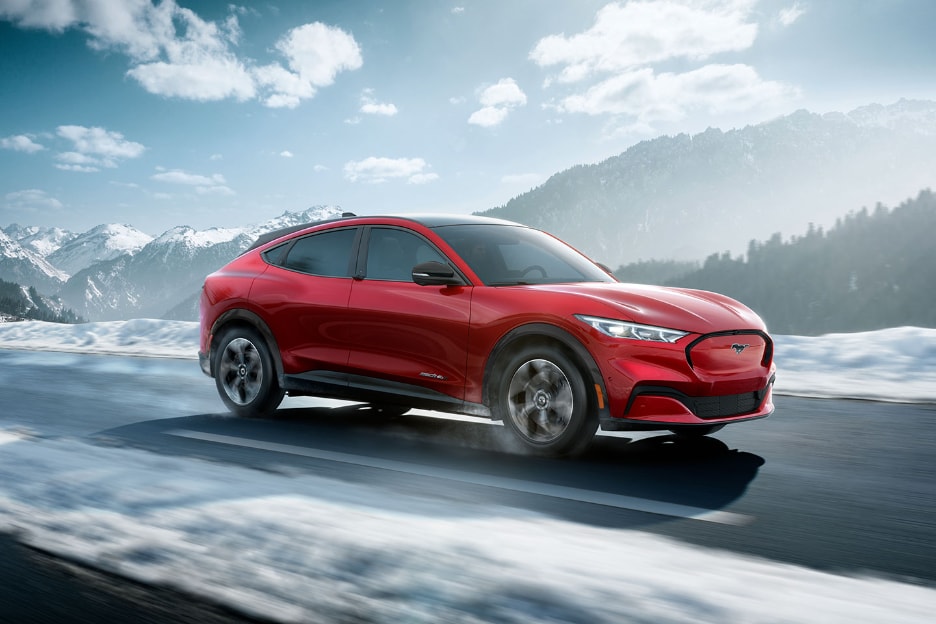 Packages
Select
The base model is anything but basic. It is loaded with useful features and advanced technologies like SYNC4, Wireless Charging Phone Pad, B&O Sound System, and Ford Co-Pilot360. The wheels and interior look good too – nothing is overlooked. 18" Carbonized Grey-Painted Aluminum Wheels and Black Onyx seats. You won't even know it's a base model.
Premium
All the goodies featured on the Select model plus an upgraded sound system, heated and memory front seats, heated steering wheel, power liftgate, and 19" Machined-Face Aluminum Wheels with High Gloss Black-Painted Pockets.
California Route
California dreaming? This model features an extended 505 km range in addition to most of the same Premium features. On the outside, we're talking about 18" High Gloss Black-Painted Aluminum Wheels with Low Gloss Black Aero Cover.
GT Performance Edition
Now we're getting to the exhilarating performance portion of today's show. The GT Performance Edition definitely lives up to its name. Estimated range of 418 km. 0 to 100 in 3.7 seconds. And all the good things we've already talked about. This model features 20" Machined-Face Aluminum Wheels with High Gloss Ebony Black-Painted Pockets (oh yeah) and a black-painted roof for a little extra style. Upgraded interior seats feature Perforated ActiveX
TM
Seating Material with Unique Miko
TM
Perforated Reflective insert and Metallic Accents.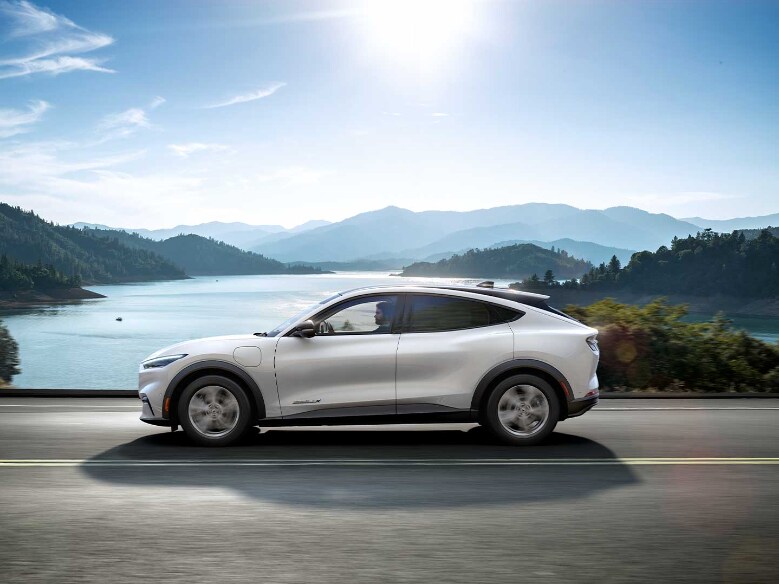 Get Into Your Mustang Mach-E
We have a few on the lot and the option to pre-order the perfect Mach-E for you. Contact us today to get started!